Category Archives:
Haiti
---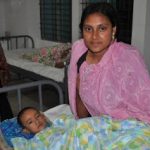 You know you're on a medical mission trip when the conversations don't get filtered during mealtimes. Let's just say the topics are barely fit for the blog let alone dinner. Which, frankly, just adds to the overall experience.
Today was another successful day. We got through all 8 cases on the schedule today by 7 p.m., which the entire team appreciated immensely, and were able to enjoy and early an leisurely dinner.
A couple notable events today. There was an emergency surgery (not our patient) that Dr. Trish scrubbed in on to learn about how and witness the differences between how we do surgery in the states and how particular cases are handled in Haiti. The particular hospital we are at does not have a resident surgeon, so being able to witness a case was a bonus.
Yesterday, a patient presented with a severe facial infection which, upon further examination, we determined would not require surgery. We were able to clean up and bandage the area, and today the patient looked better and we're confident that, with some antibiotics and proper wound care, the patient will make a full recovery. Seeing this condition makes us immensely grateful for our own access to care at home. This infection likely started out as a minor, treatable wound; in the states, it would have never progressed to the life-threatening condition it became for this patient.
Another unforgettable moment on the floor today happened with one of our younger patients who had surgery for a cleft lip yesterday. The little girl is very small and undernourished, but she is the happiest, most optimistic baby we have seen this mission. She and her mother traveled over 7 hours to get to St. Damien's to be screened for surgery, but since they arrived both have been smiles and good spirits. The mother had not brought any formula to he hospital so this afternoon we were able to get some and mixed up a serving of it for the little girl. We didn't have a bottle, so we put it in a regular cup. Watching this little girl drink, both hands on the cup and practically needing a snorkel, was one of the most enduring memories many of us will take away from this trip. At one point we tried to take the cup away and wipe off her mouth, but with lightning speed she grabbed the cup and continued to gulp down the formula.
One very important aspect of follow-up care for the smaller cleft lip patients is teaching the parents how to properly nourish their children. Many cannot read, so showing them the proper mixture of water and formula to feed their children can make the difference for a quick recovery and thriving in the future. Rigan, a nurse who has joined our team for the mission and is doing a lot of the translating for us, has been doing the demonstration and making sure the parents understand what they need to do, and the importance of doing so.
We just have three cases tomorrow, and the goal is to—
On second thought, let's refrain to saying anything that might jinx the schedule for tomorrow. We will say that we hope to see the city tomorrow, and have a goodbye dinner planned with our team and a few of the hospital. I think that the only expectation for tomorrow is that the bar at the restaurant has a well-stocked bar.