Local Events
CSI Night at Indeed Brewing Company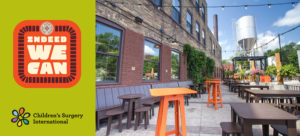 Wednesday, September 6, 2023
Indeed We Can is Indeed Brewing Company's charitable initiative that supports local nonprofits. CSI will receive proceeds from Indeed's taproom net sales as well as Quincy Corner sales, including delivery. Join us on the patio or in the taproom for a chance to connect with other CSI supporters. Bring friends!
CSI Community Dinner Night at Churchill St.
Wednesday, September 20, 2023
The team at Churchill St. believes a place to gather and enjoy good food can transform our community and enhance the lives of our guests, team members, partners, and neighbors. Please join us Wednesday evening, Sept. 20 from 4pm-8pm for CSI's community night meal.10% of gross sales from the evening will be donated to CSI.