Stories about children helped by CSI.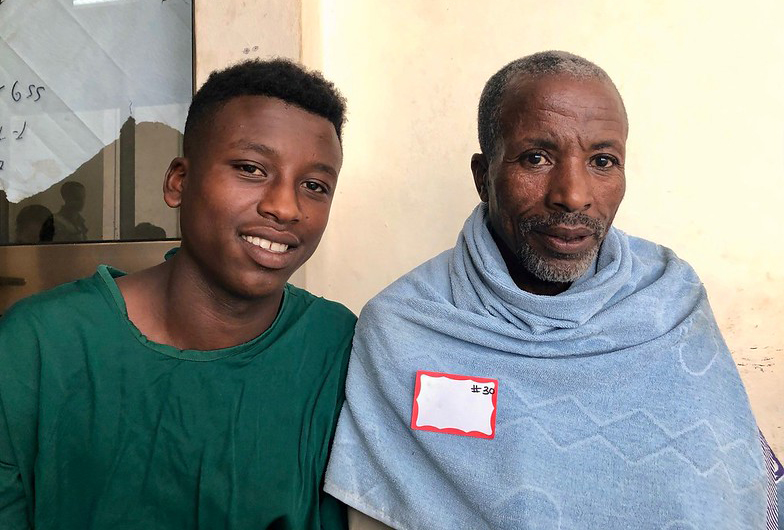 Yihune — Ethiopia
Yihune, 15 years, first presented to CSI's surgical mission team with a complex urological problem that caused incontinence. He mostly wore sarongs because he was always wet, and he had stopped attending school. CSI surgeons performed a large surgery on his bladder. On our next trip to Ethiopia, during screening day, Yihune walked in smiling, wearing jeans and told us how he had returned to school. He had his second and final surgery and is a shining example of why we do what we do. Yihune's life has been changed.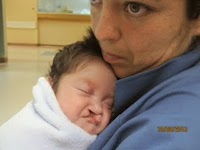 Inari — Mexico
Tiny Inari, only 3 months old, was carried into the Hermosillo CIMA Hospital screening room by her very frightened parents. Throughout the initial evaluation day, Inari's mother clutched her baby daughter to her and tried, unsuccessfully, not to cry. Dad, ever stoic by their side, smiled grimly and nodded, but didn't speak. After Inari's cleft lip surgery was successfully completed she was reunited with her parents in the recovery room. As they gazed down at their sleeping baby with a newly repaired lip, their faces turned from anxious fear to joyful smiles. Their relief and joy was palpable. Inari's father dissolved to tears as he stroked his baby girl's head and held his wife. He thanked the surgeon again and again, who simply replied: "That's why we do this."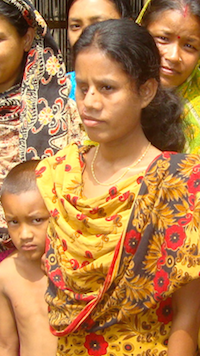 Noorjahan — Bangladesh
Noorjahan is a 22-year-old woman, the eldest of three girls in her family, living in rural Bangladesh. She was born with a severe facial cleft (split in the skin) starting in her upper lip, extending through her cheek and into an empty eye socket. Because of Noorjahan's appearance, she and her family have been shunned by their community; she never went to school, rarely left her family's modest home, and kept her face covered. Despite being turned away again and again by local professionals and other international teams, Noorjahan and her parents traveled to Rangpur Medical College after hearing that CSI would be there, hopeful that this time they may be offered help. Noorjahan and her family met the CSI surgical team, and after careful examination the team told her "of course, we will take care of you." The procedure would require more time and resources than the simpler cleft lip procedures planned for the week, but Noorjahan's situation was special. It was important that she be given the chance to lead a life her family had yet only dreamed of for he Noorjahan and her family were shocked to be finally accepted for surgery and were amazed that after just a couple of hours in the operating room her appearance had changed dramatically. Her mother promised to pray for the CSI team daily for the rest of her life. Captivated by the story, the local news team traveled to Noorjahan's home village a couple of months later. There they found a family with renewed hope. Noorjahan had healed well and was much more engaged with her family and community. Her mother said, "They performed the surgery, and my daughter now looks so beautiful. Now three sisters enjoy their time together. She smiles a lot and is willing to meet people. What can I say … for as long as I live, I will pray to Allah five times a day for them (CSI team). This is the greatest gift that I could have received."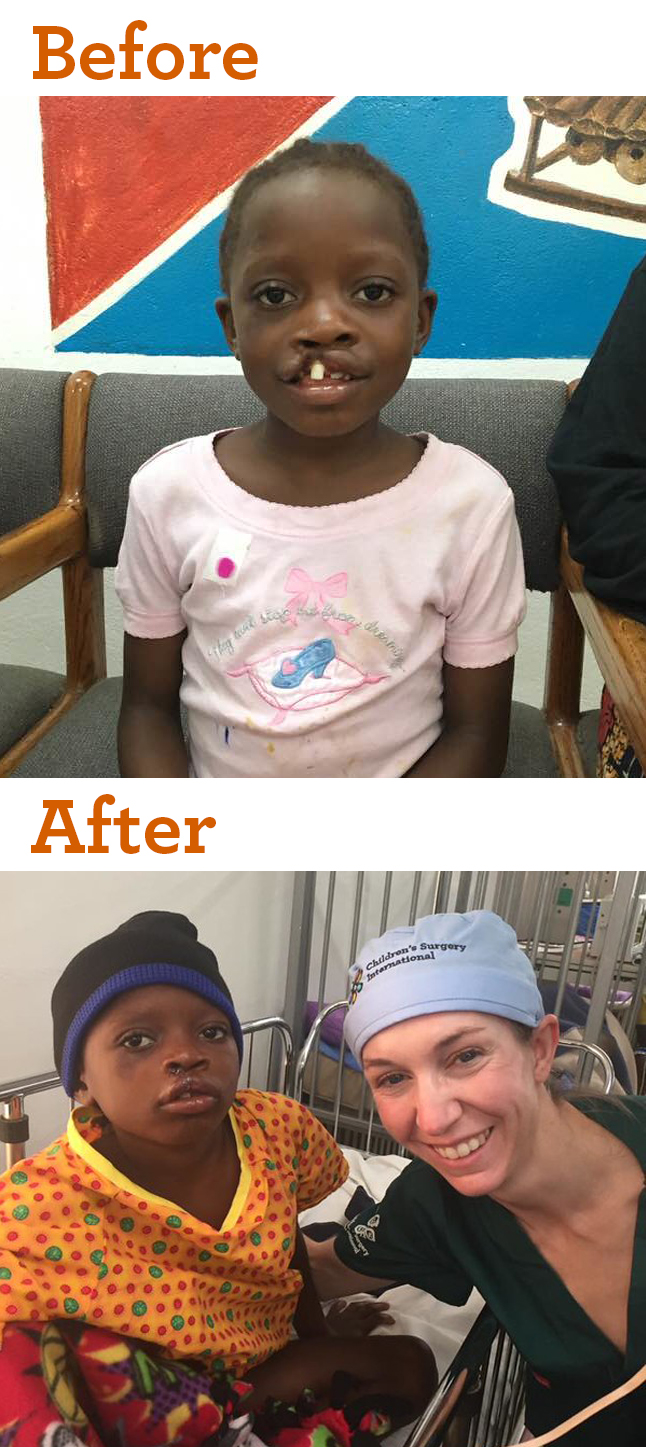 Catherine — Liberia
Catherine, 8 years, received cleft lip repair surgery during a recent surgical mission to Liberia. Her aunt accompanied her to the hospital for surgery, riding her scooter an hour into the bush to get Catherine and then another four hours to Firestone Duside Hospital. Catherine had never been able to use her upper lip to get food off of her spoon. After surgery, she enjoyed some applesauce and was a bit messy as she learned how everything worked with her new, intact lip. Her ability to eat and talk will improve significantly as she heals. We are grateful for her aunt's determination to give Catherine this chance at a better life including the chance to now attend school.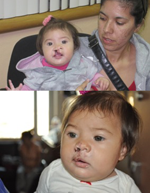 A Mother's Love — Mexico
A young mother arrived at CIMA Hermosillo Hospital with her 5-month-old baby, who had been born with a cleft lip and palate. She was poor and spoke no English, but was determined to get help for her daughter. The power of a mother's love was evident. She had traveled by bus from her village, seven hours from the hospital. I asked her how she managed to get to Hermosillo without money. She told me she made bouquets, collected pots and pans, and cooked tacos to raise the funds to cover the bus ticket. Baby Camilla had surgery the next day, and her mom could hardly wait to bring her home and show her family and neighbors.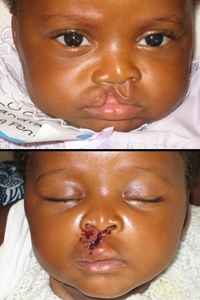 Little Sandra — Ghana
Sandra was brought to the screening by her father. They had traveled for a day and a half to get to Kumasi. The day of her scheduled surgery came, but Sandra and her father didn't show up at the hospital. The final day of the CSI surgery schedule, Sandra and her father arrived back at the hospital. We learned through translators that he was told his daughter could not have surgery until she was registered with the hospital. A booklet of immunizations that is issued to all children at the time of birth was required. He had left it at home, so he traveled 36 hours back home to get it and 36 hours back again. Needless to say, we quickly added Sandra to the surgical schedule. We later found out that the mother didn't come to the hospital because she was worried nothing could be done to help her baby. It is not uncommon to encounter this type of fear and hopelessness in the countries we visit. When a family is shunned by their community and told repeatedly that no one can help, it is difficult to keep trying. Sandra's father didn't give up, and because of his love and devotion, together with the commitment of the CSI team and our hospital partners, her life has been forever changed.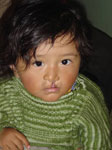 Last-Minute Surgery — Peru
A reminder of why we ask people to give so much of their time and money came to us on the last day of a Peru mission. A family arrived from a pueblo outside of Puno, Peru. They had heard by word of mouth that there was a medical team from the United States in Arequipa for the week. They feared it might be too late, but took a chance and started the journey. They were able to hitchhike through the middle of the night from their home into the city, then bought a ride in the back of a pickup truck to Arequipa. When they arrived at the hospital the CSI team was happy to add their precious child to the already full surgical schedule. Even if the days run late, our teams are willing to change yet another child's life.