Stories about children helped by CSI.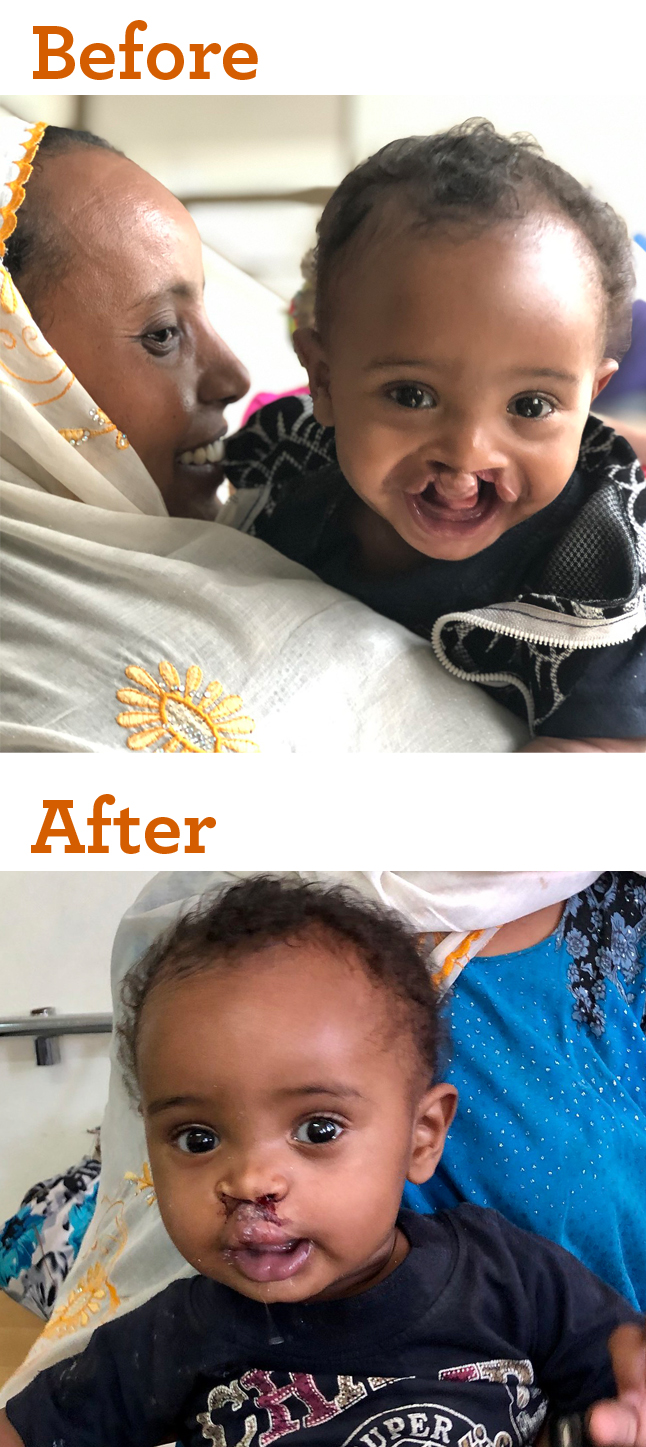 Abuzer — Ethiopia
Abuzer, 1 year, had been turned away by CSI previously because he was too young to have his cleft lip repaired. He and his mom returned for our next trip's screening day, but the two-day trip by bus and foot prevented them from arriving on time. Undeterred, Abuzer's mom was still at the hospital on the first day of surgery. Volunteers told her to go home and come back next time. On the second day, she was still at the hospital. Again, she was told to go home. On the third day, CSI surgeons said they would be able to add one surgery. Volunteers went to the lobby to see if by chance Abuzer and his mom were still waiting. They were! The surgery was a success, and we expect Abuzer to return during our next trip for cleft palate repair. A mother's resolve is a powerful force.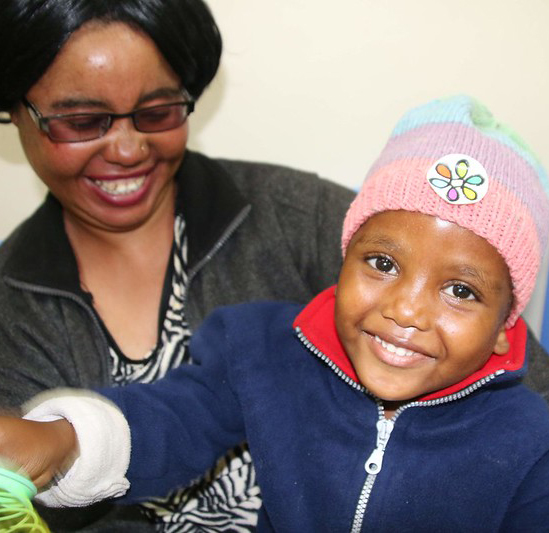 Cici — Tanzania
Cici, 4 years, traveled to Arusha Lutheran Medical Center (ALMC) in Tanzania with her mother to receive life-changing surgery. Working beside his ALMC partners, CSI surgeon Dr. Fran Schneck was busy at work. Meanwhile, CSI medical records volunteer Susan McMullan waited with Cici's mother as she anxiously awaited an update about her daughter's surgery. When a nurse entered to share the big news — Cici's surgery was a success — those in the room who understood English broke into spontaneous cheers. No translator was needed to tell Cici's mother the surgery results. Cici's mom later told Susan, "I am thankful and grateful for the help. Cici's life will forever be different. I am praying God will allow you to change many other children's lives."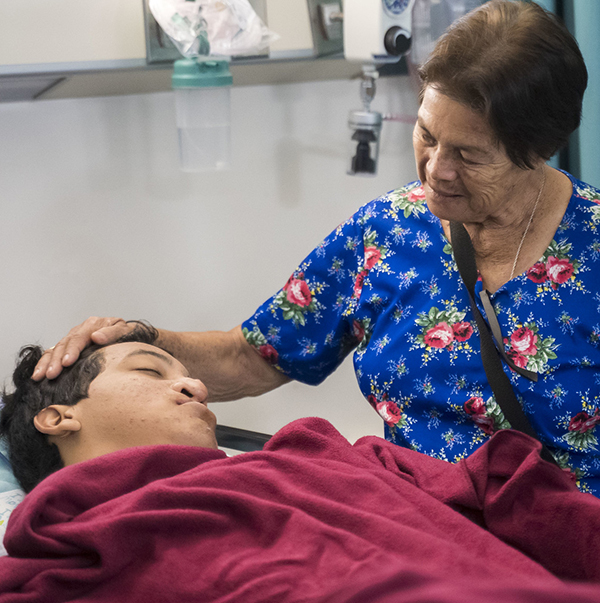 Axel — Mexico
Axel, 15 years, lives with his grandparents in Ciudad Obregon. They are very poor and for years were unable to find doctors to repair Axel's cleft lip and palate, let alone pay for it if they did. Axel did not go to school because of his condition. Axel's grandmother never gave up hope. When she learned that a CSI team visits Hermosillo every October, she begged and borrowed the money for the fare for the three-hour bus ride. Our team repaired Axel's cleft lip and later his palate. This year, Axel returned for bone graft surgery, where a small piece of bone from the hip is used to fill in a gap in the upper jaw. With this surgery complete, it will be easier for Axel to eat, his nose and teeth will be better stabilized and his speech and appearance improved. We were so excited to hear that Axel is now going to school! He is taking a special computer course, and says that he wants to work with computers as an adult.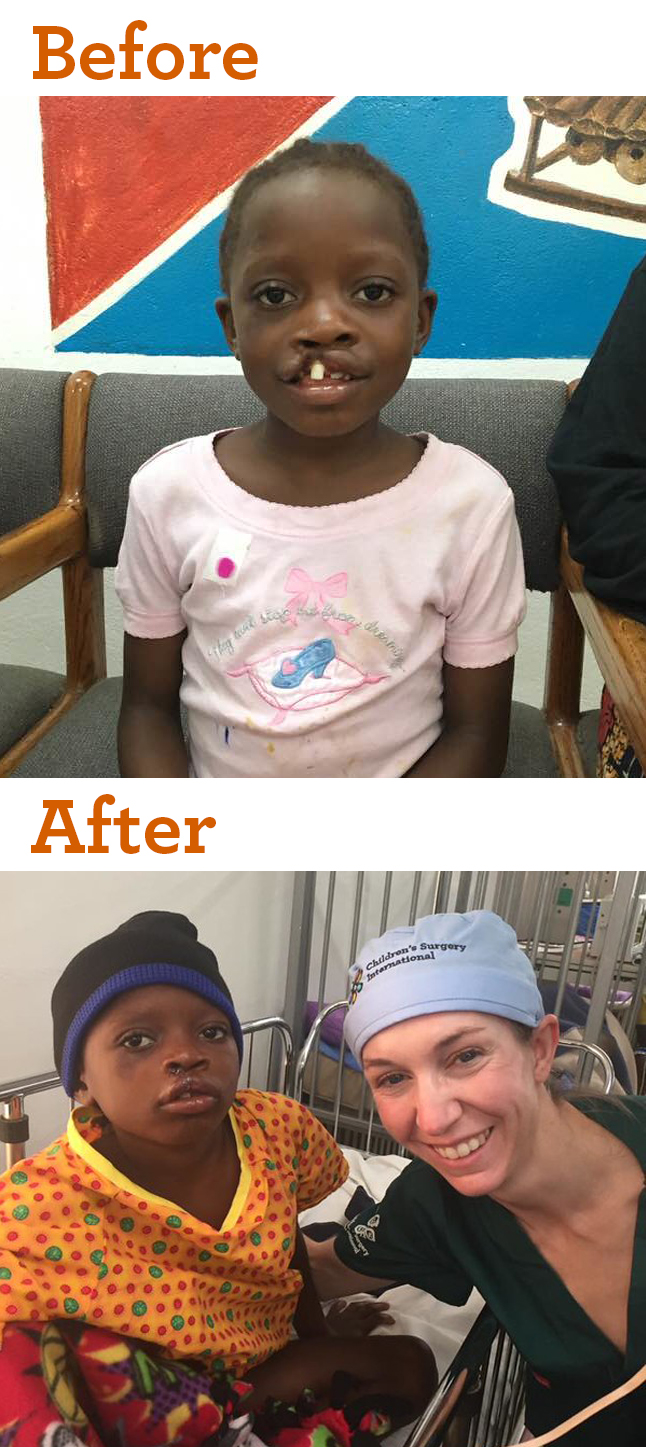 Catherine — Liberia
Catherine, 8 years, received cleft lip repair surgery during a recent surgical mission to Liberia. Her aunt accompanied her to the hospital for surgery, riding her scooter an hour into the bush to get Catherine and then another four hours to Firestone Duside Hospital. Catherine had never been able to use her upper lip to get food off of her spoon. After surgery, she enjoyed some applesauce and was a bit messy as she learned how everything worked with her new, intact lip. Her ability to eat and talk will improve significantly as she heals. We are grateful for her aunt's determination to give Catherine this chance at a better life including the chance to now attend school.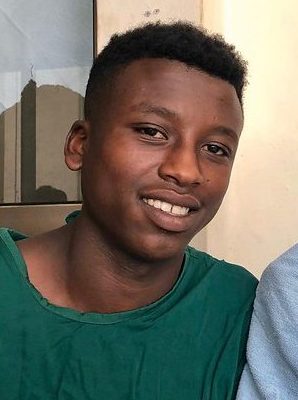 Yihune — Ethiopia
Yihune, 15 years, first presented to CSI's surgical mission team with a complex urological problem that caused incontinence. He mostly wore sarongs because he was always wet, and he had stopped attending school. CSI surgeons performed a large surgery on his bladder. On our next trip to Ethiopia, during screening day, Yihune walked in smiling, wearing jeans and told us how he had returned to school. He had his second and final surgery and is a shining example of why we do what we do. Yihune's life has been changed.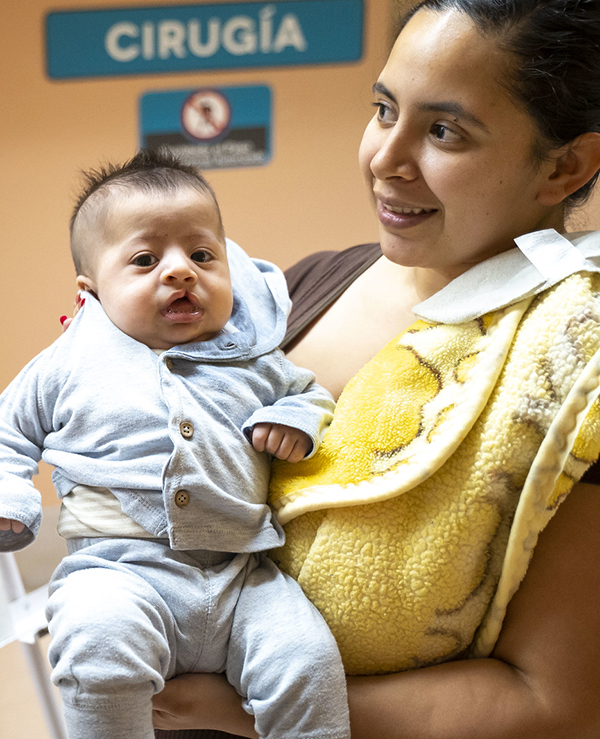 Ian — Mexico
Ian, 3 months, met CSI's surgical team last fall. He arrived in Hermosillo with his mother from a tiny border town five hours away. His mother was so excited she couldn't sleep all night. Ian's oral surgery went well, and he woke up very hungry. When his mother saw him after surgery, her exhausted look changed to tearful excitement and love. Seeing the faces of parents as they embrace their children after a successful surgery is the best part of our work.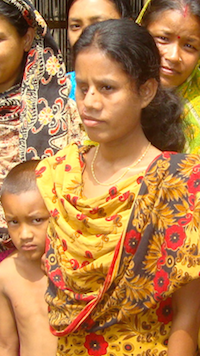 Noorjahan — Bangladesh
Noorjahan, 22 years, was born with a severe facial cleft (split in the skin) starting in her upper lip, extending through her cheek and into an empty eye socket. Because of her appearance, she and her family were shunned by their community. Noorjahan never went to school, rarely left her family's home and kept her face covered. Despite being turned away again and again by local professionals and other international teams, Noorjahan and her parents traveled to Rangpur Medical College after hearing that CSI would be there, hopeful that this time they may be offered help. They met the CSI surgical team, and after careful examination the team told her "of course, we will take care of you." Noorjahan and her family were shocked to be finally accepted for surgery and were amazed that after just a couple of hours in the operating room her appearance had changed dramatically. Captivated by the story, a local news team traveled to Noorjahan's home village a couple of months later. There they found a family with renewed hope. Her mother said, "They performed the surgery, and my daughter now looks so beautiful … She smiles a lot and is willing to meet people. What can I say … for as long as I live, I will pray to Allah five times a day for them (CSI team). This is the greatest gift that I could have received."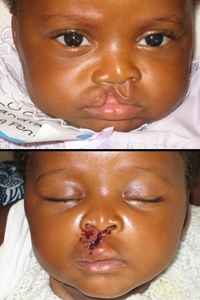 Little Sandra — Ghana
Sandra was brought to the screening by her father. They had traveled for a day and a half to get to Kumasi. The day of her scheduled surgery came, but Sandra and her father didn't show up at the hospital. The final day of the CSI surgery schedule, Sandra and her father arrived back at the hospital. We learned through translators that he was told his daughter could not have surgery until she was registered with the hospital. A booklet of immunizations that is issued to all children at the time of birth was required. He had left it at home, so he traveled 36 hours back home to get it and 36 hours back again. Needless to say, we quickly added Sandra to the surgical schedule. We later found out that the mother didn't come to the hospital because she was worried nothing could be done to help her baby. It is not uncommon to encounter this type of fear and hopelessness in the countries we visit. When a family is shunned by their community and told repeatedly that no one can help, it is difficult to keep trying. Sandra's father didn't give up, and because of his love and devotion, together with the commitment of the CSI team and our hospital partners, her life has been forever changed.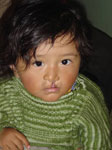 Last-Minute Surgery — Peru
A reminder of why we ask people to give so much of their time and money came to us on the last day of a Peru mission. A family arrived from a pueblo outside of Puno, Peru. They had heard by word of mouth that there was a medical team from the United States in Arequipa for the week. They feared it might be too late, but took a chance and started the journey. They were able to hitchhike through the middle of the night from their home into the city, then bought a ride in the back of a pickup truck to Arequipa. When they arrived at the hospital the CSI team was happy to add their precious child to the already full surgical schedule. Even if the days run late, our teams are willing to change yet another child's life.