CSI News
Children's Surgery International and our volunteers are often featured in the news and other current events media. Articles recognizing the work of CSI have been featured in both Twin Cities and overseas publications.
Firestone Liberia Hosts Children's Surgery International (CSI) for Ninth Mission to Duside
Firestone Liberia welcomes Children's Surgery International (CSI) back to Duside for its eighth surgical mission and ninth mission to Liberia. The medical team arrived January 15, 2020, at the Roberts International Airport (RIA) in Margibi County and will be in the country for one week.
CSI, along with members of the Firestone Liberia medical team, will perform the operations, including cranial facial, complex urological, and a variety of general surgeries on Liberia's children, completely free of charge. Upon arrival in Harbel, Lora Stege Koppel, CSI board member and mission lead, expressed her happiness to be back in Liberia. "You all make us feel welcome at Firestone Liberia," she said. 
During the 2019 mission, the CSI team, along with their counterparts from the Firestone Medical Center, performed more than 100 free surgeries. During that same mission, the CSI team also conducted 22 hours of lectures, educational sessions and hands-on bedside training for local health care practitioners.
Prior to the start of the surgical mission, CSI and Firestone Liberia conducted deworming activities for approximately 3,500 children from communities surrounding the concession area of Firestone. Communities that benefited from the deworming efforts were Cotton Tree, Peter's Town, Kparnyah, Freeman Reserve and Dolo's Town. Read the entire article.
Member volunteers time, service to help children
AAOMS Today July/August 2019. Volume 17, Issue 4.
A 2012 trip to Mexico to provide cleft lip and palate care to children was so rewarding it has become an annual trek for
Daniel Sampson, DDS, MD.
Excellent cleft and craniofacial surgeons operate in Mexico, Dr. Sampson said, but many patients cannot afford the care. That is where Children's Surgery International (CSI) helps. The nonprofit provides medical and surgical services to underprivileged children throughout the world.
Since 2005, CSI has sponsored annual October missions to Hermosillo in collaboration with CIMA Hermosillo and St. Andrew's Children's Clinic in Nogales, Ariz. In 2012, a colleague at Children's Minnesota – a pediatric health system with locations in the Minneapolis area – asked Dr. Sampson to join the CSI group headed to Hermosillo. Dr. Sampson agreed.
During that first trip, the CSI team hoped Dr. Sampson could finish a couple alveolar bone grafts during each of the two surgery days. Instead, he completed eight grafts in two days.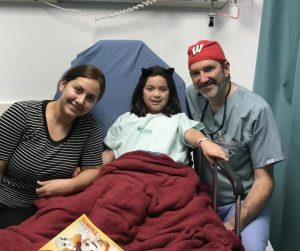 The next year, Dr. Sampson and the team increased their impact by adding a third day of surgery to their schedule. Dr. Sampson said he returned home to Minnesota so inspired that his wife, Melanie McCall, volunteered to assist with medical records the following year. She is now chair of CSI's board of directors.
"The experience of doing these trips refreshes my mind and soul," Dr. Sampson said. "I come back with renewed energy for my practice and wonderful memories of the children I take care of. Every year, there are unique experiences.
"What has been truly rewarding is watching the children grow up, finish school and get on with their lives. Each one is beautiful, resilient and deserving of everything that we can do for them. I'll keep going until I can no longer do it."
During his most recent trip in 2018, Dr. Sampson performed 11 grafts in three days. Overall, the CSI team usually conducts about 60 surgeries each mission. St. Andrew's ensures the children receive speech pathology follow-up and orthodontic care as needed, and a local plastic surgeon removes sutures.
When time permits, Dr. Sampson also performs closure of fistulas and other cleft care. During the 2019 trip, Dr. Sampson plans to perform a tensor fascia lata free flap with one of the plastic surgeons to close a large fistula that takes up an entire palate.
Dr. Sampson said he is considering traveling with CSI to other parts of the world, such as Liberia and Ethiopia.
"I have proven that alveolar bone grafting can be done safely on mission trips with good results," Dr. Sampson said. "Now I want to show the value of these procedures even if a child cannot access orthodontic treatment."
Dr. Sampson first volunteered during dental school in Minneapolis at a free clinic that served mainly the homeless. He has continued his charitable endeavors with Mission of Mercy – a community-based organization that provides free healthcare – and a free clinic in Minneapolis. He also mentors potential future OMSs at the undergraduate clinic at the University of Minnesota School of Dentistry.
"I feel these mission trips really have made me a better person," Dr. Sampson said. "They opened my mind and eyes to the world more than just a vacation to a foreign country would. We interact on such a personal level with the families and other local people.
"Finally, there is nothing better than saying, 'I can do this for your child,' and not having to worry about whether insurance will cover it."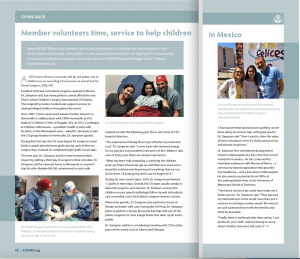 ___________________________________________________________________________________________________________________________
This part time role part time role reports to the Executive Director. The position works directly with multiple stakeholders — including volunteers, site partners, vendors, staff, members of the board, donors, corporate partners, peer organizations, and community partners — to plan and execute our surgical mission trips.  Click here to learn more and apply for this exciting opportunity!
---
May 2019 – Children's MN Mighty Blog
We know nurses work tirelessly to make a meaningful difference in their local communities every day. But Angela Olson and Macy Henningsen are two Children's Minnesota operating room nurses who strive to do even more. Both volunteer with Children's Surgery International, a nonprofit, on a number of trips abroad to help spread medical knowledge beyond U.S. borders.
On a recent trip to Tanzania, a variety of health care volunteers came together with the purpose of sharing medical knowledge with local practitioners by partnering with them to perform life-altering surgeries in local communities. Read more.
__________________________________________________________________________________________________________________________
July 2018
It is with great sadness that we share the news that Dr. James Sidman has passed away. Dr. Sidman was integral to CSI. In addition to his service as a surgical trip volunteer, Jim helped build the team of craniofacial surgeons and medical professionals that CSI depends on for our teaching missions. Dr. Sidman also served on the board of directors, helping chart our path and focus our efforts toward capacity-building and sustainability. His influence on our staff and volunteers was profound, and his wisdom and passion for this work will continue to guide us. This fall Ethiopia team members dedicated their trip to Dr. Sidman. Their focused service to help our partners in Ethiopia build skills and capacity to serve their community is just the sort of approach that Dr. Sidman inspired us to value. He will be deeply missed.
_________________________________________________________________________________________________________________________________
January 2017
Harbel, Margibi County –Vice President Joseph N. Boakai has hailed Children's Surgery International (CSI) for their successful surgical mission that transformed the lives of more than 60 Liberian children at the Firestone Medical Center in Harbel, Margibi County.
Vice President Boakai referred to CSI as a "great partner", noting without such organizations it is difficult for the nation to achieve all it plans to do. Read more.
_______________________________________________________________________________________________________________________________
March 2015
More at Minnesota Physician – March 2015.
---
January 21, 2015
Edina couple looking forward to a fourth medical mission with Children's Surgery International.
[…] About one in 1,000 children is born with a cleft lip or palate. But in some parts of the world, these babies are shunned — not only by society, but by their own blood. "In some cultures, they're thought of as monsters or demons.
Many of these kids are abandoned by their families," said Dr. Dan Sampson, an Edina resident and associate chief of surgery at Minneapolis Children's Hospital.
More at Star Tribune.
---
CSI Announces New Site: Vietnam
November 2014
A small team of CSI volunteers completed a site visit and inspection in Vietnam in September 2014. They traveled from Ho Chi Minh City to Quy Nhon, and onto Hanoi. Thanks to a collaborative arrangement with International Pediatrics Specialists Alliance for the Children of Vietnam (IPSAC), the team was able to visit seven hospitals. The group determined that the medical and surgical needs are significant, and a wonderful opportunity for CSI team members to work alongside local medical professionals to serve children in the region. A CSI mission trip to Provincial Hospital in Quy Nhon, Vietnam is planned for September 2015.
---
August 4, 2014
As alarm grows over the deadly Ebola outbreak in West Africa, families in Minnesota's large Liberian community are scrambling for plane tickets and visas to get relatives out of the stricken zone and at least two Twin Cities churches have canceled mission trips intended to deliver medical and other aid to Liberia.
More at Star Tribune.
---
July 28, 2014
MINNEAPOLIS (WCCO) – The Ebola outbreak in West Africa is having an impact on some health organizations here in the Twin Cities.
The nonprofit group Children's Surgery Internationalhas canceled a trip to Liberia because of the outbreak.
Laura Stege-Koppel, a nurse with Children's Hospital in Minnesota, volunteers for the group, which does medical mission trips in West Africa.
More at CBS News.
---
Spring 2012
Although the Randall siblings live on different sides of the United States, three of them manage to get together every year or so—sometimes at destinations with no electricity or running water but plenty of hustle and bustle. But that's nothing new for Children's Surgery International (CSI) volunteers.
More at BYU Magazine.