Local Events
THE CSI GALA
Save the Date
~ Be the Light ~
Children's Surgery International 16th Annual Gala
Saturday, May 2, 2020
Minneapolis Event Center
The Children's Surgery International 15th Annual Gala enjoyed a record-high attendance and raised a record $353,000. Thank you to the record number of supporters for helping reach and surpass our fundraising goals!
The funds raised at the Gala are critical to the success of our work at our current and future sites around the world. Your generous giving allows CSI to bring life-changing medical and surgical care to children and families in need and allows CSI to continue our teaching initiatives to foster in-country self-sufficiency. This is how we make a lasting impact in the communities we serve.
On behalf of the 2019 Gala Committee and the CSI Board of Directors, we extend our sincerest thanks. Together we are the light that will change lives, strengthen communities and bring hope to children and families in some of the most resource-poor regions of the world.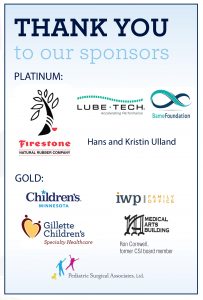 Thank you Silver Sponsors:  Children's ENT and Facial Plastic Surgery ~ Edina Plastic Surgery ~ Jim & Lora Koppel/Jim & Joan Stege ~ Tom & Jeanne Fansler ~ Dr. Jesse Hennum & Pamela Marentette ~ Sally & Charlie Lannin ~ Dr. Daniel Sampson & Melanie McCall ~ Dr. Paul Melchert & James Zimmerman ~ The Mitha Family ~ OMS Specialists ~ Neal Peterson & Deanna Thompson ~ Dr. Michael & Theresa Philbin ~ Linda & Richard Sedgwick ~ Drs. Dave & Naomi Tetzlaff ~ Vero Networks (Chris & Kelli Murphy)
Indeed We Can

Save the Date
Indeed We Can Taproom Fundraiser
Wednesday, July 29, 2020
Indeed Brewing Company
Indeed We Can is Indeed Brewing Company's charitable initiative. Their taproom is open on Wednesdays from 3-11pm, and on July 29 all net proceeds will be donated to CSI. More information to come.