Local Events
THE CSI GALA ~
Be the light that changes a child's life! The 15th annual Children's Surgery International Gala will bring the community together to help kids around the world receive life-changing surgeries! Join us for interactive experiences, silent and live auctions, and inspiring stories as we celebrate the past year and plan for the future of CSI.
Join our co-hosts Drs. David and Naomi Tetzlaff at U.S. Bank Stadium Hyundai Club on Saturday, April 27, 2019. Together we will change lives, strengthen communities and bring hope to children and families in some of the most resource-poor regions of the world. The funds raised will support this work, and you are key to our success. Contact our executive director, Megan Sparks for sponsorship, volunteer, and donation opportunities.
Learn more, preview items and register here .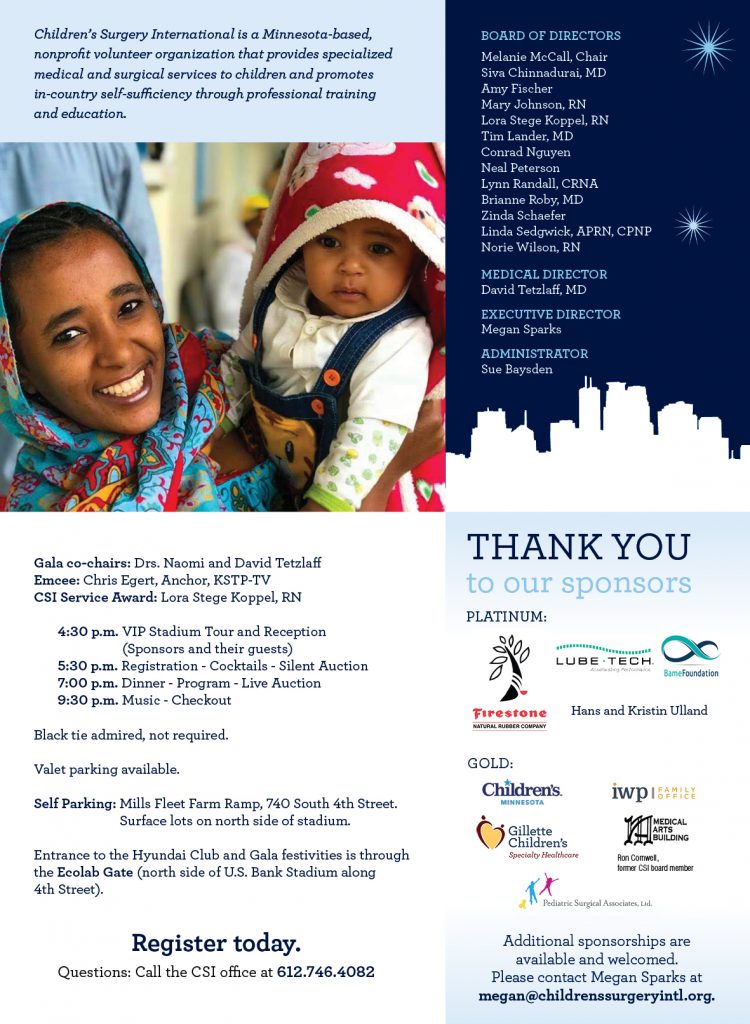 Thank you Silver Sponsors:                                                                                                                                                                   
Children's ENT and Facial Plastic Surgery, Edina Plastic Surgery, Jim & Lora Koppel/Jim & Joan Stege, Tom & Jeanne Fansler,
Sally & Charlie Lannin, Dr. Daniel Sampson & Melanie McCall, Dr. Paul Melchert & James Zimmerman, The Mitha Family,
OMS Specialists, Neal Peterson & Deanna Thompson, Dr. Michael & Theresa Philbin, Linda & Richard Sedgwick,
Drs. David & Naomi Tetzlaff, Vero Networks (Chris & Kelli Murphy)