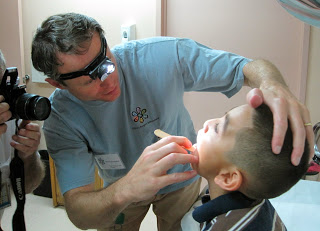 Haiti 2011 – Final Day
Well, we're all packed up ready to go in the morning. Quick note tonight tonight as we have a long day ahead of us.
This evening we went to the Sugar Cane Plantation for dinner and our Haitian counterparts from the hospital joined us. We made for quite the group as there were 31 of us in all! We really bonded during this time, singing songs in native languages to each other and learning everyone's favorite animal as we went around the table introducing ourselves for those we hadn't worked as closely with on the trip.
It was really great to be able to spend time with everyone in a social context. It is comforting and encouraging to know that there are people around the world whose work means as much to them as ours does to us. In the end, it's all about the children, and St. Damien's really understands that.
If you're reading this and you are going to be collecting one of us tomorrow night at the airport, please make sure you have a pillow for the car ride home (if it's a long one) and that the hot water heater is in tip-top condition because we're probably going to want to take a nice, long warm shower.