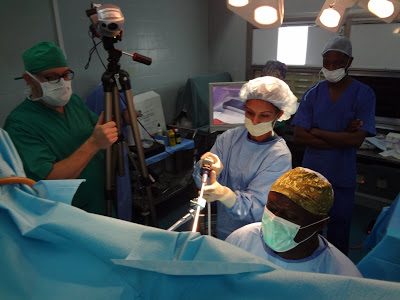 Haiti 2011 – Screening and Setup
The understatement of the trip is that we're wet. Really, really wet. Evidently it's the rainy season in Haiti, and only Scott, the anesthesiologist on the trip brought an umbrella, which he made a conscious decision to leave in the compound when we went to Mama Rafael's down the road this evening. Not that the umbrella would have helped.
I am not exaggerating when I say that the type of rain we had in Haiti this evening would have caused every news station in the twin cities metro area to interrupt your regular broadcasting to show you the latest picture of a flash flood carrying cars and garages down the street. Torrential is an understatement.
Mama Rafael's is about 1/4 mile from the hospital, and we waded through knee-high rains along the road most of the way back to the hospital. We did finally all make it back safe to find the power strips in our tents floating in 3 inches of water. I'm sure your first thought was, "huh, I always wondered if those floated." Well, now you know.
We did actually see children today and have a productive day of screening and set-up. We screened 20 patients, most of whom are candidates for surgery and will be seen either Tuesday or Wednesday. The interpreters are excellent, and a few of us know French (and a little Creole!) which is helpful.
We had a little time in the afternoon to spend on a few of the wards. Many went to the NICU to see the babies, others visited the "fish room" which is what they "named" (they use pictures rather than words) the room where they put children abandoned while in the hospital. These little ones are so starved for attention and it's hard not to spend the entire afternoon with them.
We have 10 surgeries lined up for tomorrow, and the plan is to start around 8:30. The trick for the day, however, will be keeping the schedule moving while screening new patients which will require Dr. Trish (our pediatric surgeon) and Dr. Pete (our pediatrician) to bounce between clinic and OR/ PACU to screen and approve new cases, but our well-rested (albeit water-logged) team will surely make it look like a walk in the park.