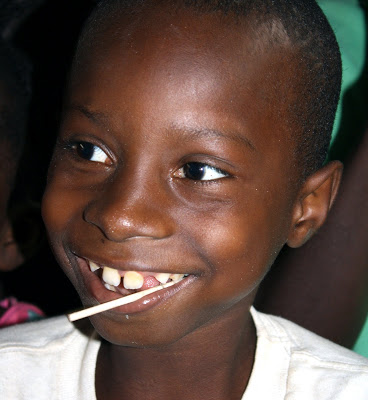 Wednesday in Liberia
While two in our group visited orphanages, the rest of the team had a very busy day at Duside hospital. Dr. Dave Vandersteen started his day with a male 7 year old patient who has a penis but was born without the rest of his genitals; upon opening him up, he is in fact 100% female. Dave sought counsel with Duside's Dr. Sherman, and met mid-surgery with the mother who gave support to make "him" a "her". So he continued surgery and Joe emerged as Jolynn. In his 21 years of practice he has had girls really be boys, but never the opposite. In the U.S. this would have been detected at birth.
Dr. Sherman completed a cleft surgery on a 23 year old woman (with very little support from Dr. Lander who has been training the Liberian physician all week). An added bonus is that Dr. Lander operated on the woman's child yesterday, so a mother/child cleft repair has been part of the week.
Clinical lead Katie Houle has been wonderful in this first time role for her. And all members of the team are in absolute sync, handing patients from one stage to the next with near perfect precision.
Lora Koppel, Katie Stewart and Sally Lannin went to Orphan Relief and Rescue where Debbie, the coordinator, headed up the assembly of 70 belated Christmas 'bundles' to deliver to two orphanages. Included in each bundle was an apple, pencils, a silly band, a ball, a sucker, candy cane and toothbrush. Attached to this blog entry is a picture of a child with his 'bundle'. Prior to opening their Christmas gifts, the children serenaded us with "We Wish You A Merry Christmas" and "Away in the Manger". Also attached are a number of pictures taken at both of the orphanages. In all honesty, the latter orphanage in particular was hard to see: 30 children, 12 of whom are under 2, being supervised by two elderly women who never stood up the entire time we were there. And when we gave each child their Christmas bundle, without exception we heard a 'thank you'. Also included is one of the boy orphans wearing one of Dr. Dave Tetzlaff's daughter's t-shirts which we donated. In addition, when we come to these orphanages word spreads to the nearby village and "outside" children can be seen peering jealously through the concrete blocks.