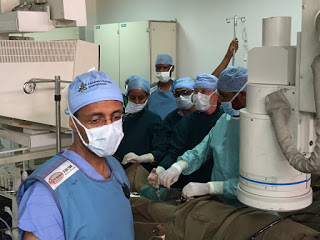 Wednesday from Cardiology Team in Addis
From the Cardiology Team in Addis Ababa:
We had a very successful day today! We performed two cases and had great results for both of the children. They are recovering in the hospital overnight, and we are confident that they will already notice a difference in how they feel by tomorrow morning. Here are a couple of photos from the day.
From the ENT and Urology team in Bahir Dar:
With the exception of two patients who ate right before surgery and thus needed to be rescheduled for tomorrow, it has been a great day. Dr. Fran Schneck performed a lengthy, 6.5 hour surgery in the 95 degree operating room, basically re-routing the plumbing on a 3 year old who had lived with an external bladder since birth. Tomorrow Dr. Schneck will repair a similar defect for a 14-month-old child. Drs. Tim Lander and Andrew Scott are tackling cleft lips, removing a tumor on a palate, and a neck mass on a brave 12 year old girl named Narda. The local surgeons are so very pleased to have the opportunities to observe, learn and participate in these interesting procedures. Some say they feel as though they are "walking on water"!
We had a large lunch brought into a room near the operating rooms in order to share our midday meal with the Ethiopian team members. Molly McIntyre and Amy Erlandson are keeping peace in the PACU with Drs. Paul Melchert and Dave Tetzlaff. The ward is managed by Norie Wilson with Maria Rubin and Victoria Vandersteen. Tonight a few from our anesthesia team (Drs. Zipporah Gathuya, Kevin Healy, and CRNA John Erlandson) will return to the hospital to administer another epidural to the little girl recovering from bladder surgery. This will keep her comfortable while she is healing.
We're off to bed to rest up for another busy day tomorrow!