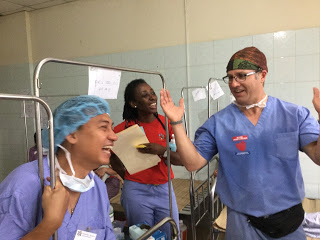 Wednesday, Day 3 of Surgery
As I write this, only three patients are still in pre-op, waiting for today's surgical cases. One is a little fellow named Van, who is ONE UNHAPPY DUDE because he hasn't had anything to eat or drink since midnight in preparation for surgery. It is 4 p.m., and he'd give anything for a little something to nibble on. We've tried music, coloring and puzzles, but he just wants food! It won't be long now, and he'll be off to sleep and ready for his surgical repair.
The second fellow is Tam, a 17 year old who nicely borrowed my computer and immediately tried to sign on to Facebook, but alas no Wi-Fii at the hospital. How can we be in the middle of nowhere in the north of Vietnam and he wants the same entertainment as our 17-year-old kids at home? The world is definitely growing smaller.
Last in the room is a wonderful 42-year-old woman named Thuong, whom we squeezed onto the surgical schedule. Thuong has had a disfiguring cleft lip that led kids in school to mock her. She stopped attending school in the 2nd grade. With the hands of a 70-year-old woman, she gestures that she worked in the rice fields since she was 3 feet tall. Thuong is envious of the white skin of one of our nurses of Swedish heritage, and we tell her that we try to get our skin the color of her brownness by lying in the sun. Her sister tells us that she is able to read only five or six words, but can write her name, albeit very slowly. Thuong's smile is utterly beautiful, and her personality, with plenty of giggles, shines through. She will continue to be followed by local health professionals after CSI leaves for continued care and support.
We officially screened 74 urology patients and 65 craniofacial patients. We evaluated an additional 150 patients, but for a variety of reasons we were not able offer surgery at this time. We have collected names and contact information for this group. They will either be seen by our Vietnamese medical colleagues, or we will contact them when our CSI team returns in 2016.
Our logistics head, Con Nguyen, had a very productive meeting with a group of local physicians as we fine-tune our process on our first visit. We have drained the team of translators, as one of us always seems to be calling out "may we have a translator in here"? There are very specific processes in the hospital that we are learning as we mesh how we manage pain, communicate with families and provide care for patients. Of course we have the same goals, and there are many great learning opportunities for both our team and for the people here.
Posted Wednesday by Sally Lannin