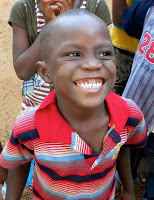 Videographer, Nolan Morice
Videographer Nolan Morice, Co-founder of Line Break Media in Minneapolis which produces marketing and films for "all causes seeking justice", is volunteering his firm's time by filming for CSI in Liberia. Here he "lends" his expensive camera to an orphan who pretends to make a video. Highlighted in the lens is the writing from the Firestone truck, our sponsor who provides transportation, housing, food and sponsorship for our time here.
Medical Records volunteer Katie Stewart distributes soccer balls that have been signed by her students at Crocus Hill Preschool in St. Paul. We want to give a special shout out to Crocus Hill School which moved locations this year and donated 30 + boxes of "No longer needed but really appreciated at the orphanages CSI visits" goodies.