Vicente's Story – Mexico 2018
Today we finished our work. In total, 62 surgeries were completed. We are so proud to have a strong partnership with Hospital CIMA and St. Andrew's Children's Clinic, providing free surgeries to some of the areas most needy families. Our colleagues here care deeply for the children and families of Sonora State and most especially those who have very limited access basic health care. We have a shared goal of providing basic and life-changing medical and surgical care to these children, and, together we work passionately to make it happen.
Each child and family has shown us courage, love, determination and hope. Their stories are powerful and moving, and sometimes there's one that stands out. While on holiday, Ms. Diana, the office manager at St. Andrew's Clinic, met 6-month-old Vicente's mother. Vicente's mother wasn't exactly on holiday — she was on the street, begging for money. Ms. Diana noticed her carrying a sign and wanted to know more. As she approached, Diana realized the woman was begging for money to fund her son's cleft lip surgery.  
Ms. Diana knew her organization could help this family, so she talked with the mom and wrote the phone number of St. Andrew's on her sign, telling her she must call and come to the clinic for evaluation. Mom took a chance and called. The next month Vicente was prescreened for the upcoming fall CSI trip.  
When our team arrived in Hermosillo, Vicente and his mother were waiting. He had his surgery Monday and went home today, with a beautiful repair and new hope! Vincente's mom told us how grateful she was. She said she didn't really think Ms. Diana was for real when they met, but she was wrong. Ms. Diana, St. Andrew's Children's Clinic, Hospital CIMA and CSI are very real  and very serious about helping families in need.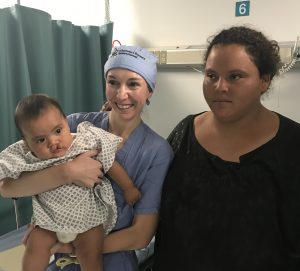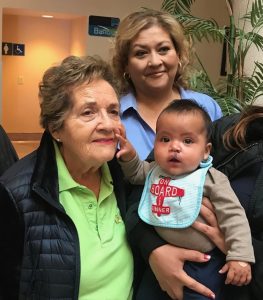 It takes a village, and we are certainly proud to be a part of this one!
View more photos here!