Transformations and lasting impact – Ethiopia 2017
A special case for us today was 9-year-old Asnake. His surgery was a huge success that will have a dramatic impact on his life trajectory! Asnake's large, complete cleft lip was a source of much shame for him, and he has been bullied and teased mercilessly. He constantly wore a scarf around his head and neck that he would hold over his mouth. Until tonight.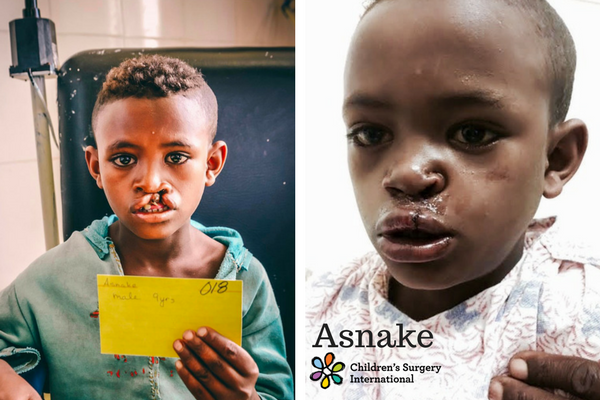 CSI surgeon Dr. Chinnadurai and Ethiopian surgeon Dr. Sintayahu were able to repair Asnake's nose and lip. He looked like a completely different person after surgery. His father tells us that as soon as they get home, which is a 90-minute walk to catch a 4-hour bus ride, Asnake will begin school because there will be no more shame. He now has a bright and exciting future living a full life with confidence.   
Meanwhile, exciting collaboration and training is happening in the cardiology area as well. CSI team member Dr. Woubeshet Ayenew gave another lecture to the cardiology residents. Today's topic was focused on EKG Manifestations of Acute Coronary Syndromes (ACS). The students were engaged and had many questions.  With Dr. Woubeshet's guidance, tomorrow they plan to see more patients and perform a TEE (transesophageal echocardiogram) for the first time ever in Bahir Dar. The hospital has the tools to do this, they just need the training, which Dr. Woubeshet is happy to provide. Lasting impact indeed!
See all our trip photos here.