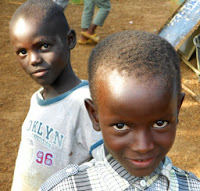 Tour of Monrovia and Orphanage Visit
Saturday afternoon the group split into two groups, one going on a tour of Monrovia taking in the urban grit of Liberia's capital city. The other visited teh Frances Gaskin Orphanage. We had the opportunity to distribute soccer balls which were donated by CSI Partner Michael Silvio;puzzles, dolls, signed soccer balls and books donated by Crocus Hill School, a preschool in St Paul; de- worming pills and dumdum suckers.
Dr. Dave Tetzlaff coordinated the donation of 300 pairs of shoes donated by Soles4Souls.
Debra Frasier (author of the terrific children's book,"On the Day You Were Born) donated crowns and books. There was even a tent celebrating Children's Reading from the Minnesota State Fair.
Off to bed to get ready for an early morning of screening at the hospital! Everyone is very excited as word is we have a very full day of very needy patients.