Surgery Day 1 – Complete
Karen Jordan ~ CSI Team Member
Whew the last two patients are in surgery as I type at 4:45 pm.  The first day of surgery is coming to an end and it has been overwhelming yet fulfilling, chaotic yet successful, and heartbreaking yet heartwarming.  The day started bright and early after a night of sporadic electrical outages.  The surgical teams headed over first to get ready for the day, followed by medical records and the pediatric team.  We were greeted by a crowd of patients and their families, in addition to dozens of people hoping to be added to the surgery schedule.  As we were trying to get everyone organized, the surgeons and nurses were trying to find basic items like sanitary wipes while testing their spur of the moment solution to missing shoe covers (shower caps over their shoes).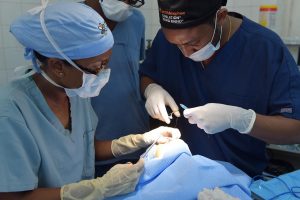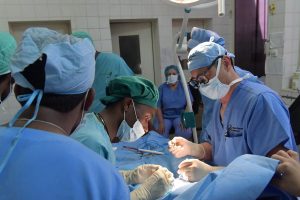 The first operations started around 8:45. While it eased a bit of the chaos outside, we were still dealing with figuring out who was who and tracking down missing patients.  My heart went out to the little ones who hadn't eaten or drank anything since midnight and you could see how difficult it was for their mothers to not breastfeed them.  With 13 operations scheduled, we had to complete intake for the day then turn our attention to the more than 20 families who arrived hoping to be added to the week's schedule.  Unfortunately, many of them had to be told to return for CSI's next trip in the Fall, however 12 were screened and the surgeons will try to add them to an already full week.  Many of these families were waiting for us when we arrived at 7:20 and we were finally able to get them seen by the surgeons and pediatricians at the end of the day.  It was amazing to see how patient these young children were with no toys or video games or iPads to keep them occupied.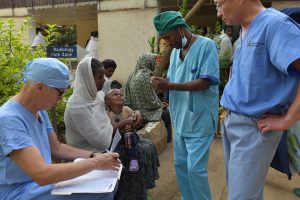 I took a break from the medical records charts to spend a couple of hours playing with the waiting children.  They are all adorable, smart and willing to make friends at the drop of a hat.  I was cranking out origami balls and birds and even the youngest wanted to help make them while the older ones quickly learned how to fold the shapes themselves.  We moved on to cat's cradle and, the universal smile-getter, bubbles.  It was wonderful seeing their smiles and hearing them laugh given the grim surroundings of the hospital environment and the concerned families.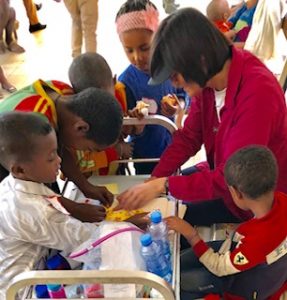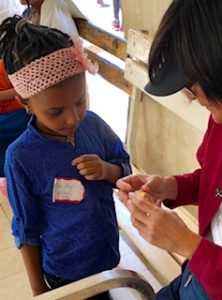 I was nabbed by one surgeon who had been referred to a current patient in the hospital—a 25-day old baby in NICU who needed attention from our urology surgeons.  We went to NICU which turned out to be a gurney in the outdoor hallway.  Thankfully the surgeons were able to add the baby to the schedule at the end of the day.  His mother sat across from me with tears silently rolling down her face; can you imagine giving your 25-day old baby to a set of strangers who don't even speak your language for an operation?  Her joy and relief when he emerged sleepy and safe were memorable.
The surgeries aren't the only value CSI brings to the Ethiopians.  One young mother brought her baby who had been born yesterday but couldn't nurse because of its cleft lip.  Although the baby was much too young to be operated on, the team mobilized to produce special bottles designed for cleft lip babies who can't produce enough suction to nurse successfully.  James, CSI logistics lead, ran into town to buy some formula for the baby and Jan, CSI nurse educator, spent 45 minutes instructing the family how to mix the formula and use the bottle.  The relief on the family's faces when the baby could finally drink the formula was evident.  Although this sounds simple, we had seen a seven-month old baby on Saturday when we were doing screening who hadn't gained any weight since birth due to its cleft palate.  It brought home to me the many ways CSI impacts lives here.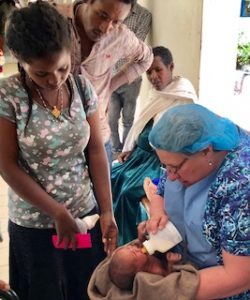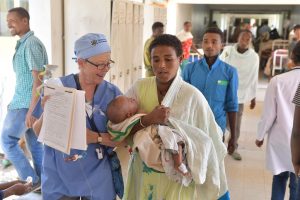 We barely had time to eat or drink but I wouldn't have traded today's experiences for the world.  I've had an intimate glimpse into these families lives and I have seen firsthand the impact CSI's dedicated medical team make for these patients.  The best feeling was watching the doctors walk out with babies in their arms after a successful surgery and hand them into their parents' arms, safe and sound and healthier than before.  I remain deeply impressed by the CSI team here—their dedication and hard work under very difficult conditions, their flexibility and creative solutions to challenges, and their warm and deep compassion and care for the patients and their families are inspiring.  I can't wait for day two!
Karen Jordan, CSI partner and volunteer, assigned to support Medical Records and loving the experience!