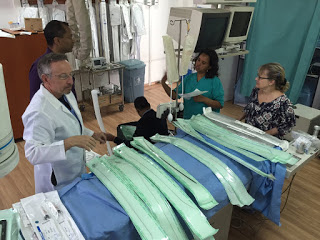 Successful Surgeries, Wonderful Families, plus Cardiology Team Update
Tuesday
We have had a very, very busy day! Given the severe lack of resources in this public hospital, the work their staff is able to accomplish is incredible. Our urology and ENT surgery schedules have been full, and lots of good teaching and training has taken place. Dr. Scott was able to allow one of the Ethiopian surgeons to perform a considerable amount of an entire surgery with him coaching and correcting. This was a great feeling for everyone involved.
Having enough interpreters is a challenge in most countries where CSI travels, and Ethiopia is no different. In addition to four 4th- and 5th-year medical students, we recruited an Ethiopian man who works at the hotel and also happens to be a patient scheduled for surgery with us at the end of the week. He speaks English well, so we asked if he could come back to help us if we are able to return later this year. He haltingly responded that he didn't want to have to wait 6 months for his surgery. Of course we meant would he return to help translate, which he enthusiastically agreed to do.
Everyone is working above and beyond, showing terrific flexibility. Our Ethiopian partners are all in and asking great questions. One minor challenge is the squat-only "hole in the floor" toilet at the hospital, giving men a technical advantage.  The CSI women who haven't been doing their squats in yoga back home are incented to not drink or eat all day, which is never a good idea when working 10-hour shifts in a foreign country!
The children and young adults we are caring for have the most beautiful eyes and ready laughs that make one momentarily forget how far apart our worlds are, yet hint at a surprising shared intimacy. When we take their photo and the flash makes them blink, others around them laugh and elbow them when we show the squinty result. The exact thing would happen to us at home. We blow a bubble wand and one lands on the dad's nose, causing the child to erupt with laughter. Just like us. The mother starts to cry when told we cannot help her child's affliction, and we immediately give her a hug because her response is exactly as ours would be.
These are all our children, and each one we see here cannot help but remind us of our incredibly good fortune.
Cardiology Team Update
Here's a quick update note from Dr. Ron Johannsen and the cardiology team in Addis Ababa:
We had an exhausting but rewarding time with our cardiology colleagues at the Cardiac Centre – Ethiopia today.  We evaluated 22 patients with severe rheumatic heart disease, then chose and prioritized them for interventions starting tomorrow morning.  We had a wonderful mix of Ethiopian and U.S.-based cardiologists working and learning from each other.  The knowledge shared from our various experiences in Nepal, India, Ethiopia, and the U.S. with this devastating heart disease will go a long way in improving care not only now, but long term. A huge thank you goes out to Dr. Woubeshet Ayenew, who has been the glue necessary to make things run smoothly at our site.