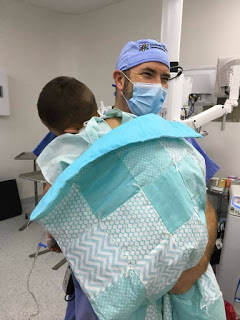 Stories from Hermosillo
As CSI surgical mission volunteers, we are so fortunate to meet many wonderful children and families. I wish we could share all our stories, but here are just a few.
Oscar –
Imagine the desperation of a mother who hitchhiked with her 1-year-old son from their home three hours away to Hermosillo hoping to receive surgery for a cleft lip. Oscar is one of five children whose family lives on a salary of $50/week. Due to a last-minute family emergency, he and his mother missed the CSI screening day. Frantic, but undeterred, she left home with Oscar in her arms. She had no money, and only some juice, water and a small bag. That night the two of them slept outdoors and started hitchhiking toward Hermosillo the next morning. They were picked up by a kindhearted taxi driver took them as far as the bus station. From there another taxi driver brought them to the hospital. We were pleased to be able to put Oscar on our surgery schedule.
Iker –
When Iker arrived last year as a 5-month-old, he was severely malnourished due to feeding challenges as a result of his cleft palate. At that time he weighed about 3 pounds, small enough to fit in a shoebox. Too fragile for surgery at that time, his very survival was questioned by medical staff. At screening during the CSI trip last year he was admitted to a local hospital for care. The St. Andrew's Children's Clinic provided the financial and emotional support as he recovered. He arrived back this year for his CSI screening literally transformed, well nourished and ready for his cleft palate surgery. His mother is so very grateful!
Hannah –
Three-year-old Hannah received the best gift ever! Her father promised her that after her cleft lip surgery he would buy her a brand new two-wheel bike. At the end of her bed when she awakened from anesthesia, she found a new pink and purple Peppa Pig bike. Hannah was out in the hallway riding the bike – which was decked out with shiny tassels and training wheels – three hours later under the very careful supervision of her mother and hospital staff.
We wrapped up the surgeries today with a total of 57 children helped in just three days. The team was able to add three children who were on the "maybe" list for surgery as well. One of my favorite things I heard this week was from a St. Andrew's Children's Clinic staff member. She quoted the guardian of a young boy that CSI provided surgery a few years ago. "I gave him a home, St. Andrew's and Hospital CIMA gave him a life, and CSI gave him a smile."
The generous and hospitable Hospital CIMA volunteers treated our team to a farewell fiesta last night. We enjoyed fabulous Mexican food fit for royalty, in the most lovely historical home in downtown Hermosillo. The evening was filled with music, karaoke and dancing late into the evening. Early this morning the team completed their final rounds, discharging the last 16 of our darling patients. Needless to say, there were smiles all around. Goodbye Hermosillo, until we see you again.
Thanks to our amazing and talented CSI volunteer team, St. Andrew's Children's Clinic and Hospital CIMA Hermosillo. Because of great partnerships CSI is able to change many lives, one child at a
time.
---