Spreading hope in Liberia
As a CSI team of 24 medical and support volunteers prepare to journey to Liberia next week, our partners at Firestone Hospital Duside are already hard at work recruiting patients for surgery. Word traveled throughout Western Africa this fall in the form of posters placed in common areas and radio announcements broadcasting an invitation for families to bring their children for pre-screening last month. When the CSI team arrives for screening day on January 18, CSI volunteer surgeons Janelle Fox, Nathan Kreykes, Trish Valusek and David Vandersteen will determine which cases can be completed during this mission.  
This streamlined process is thanks to a strong partnership with Firestone Natural Rubber. The corporation hosts CSI at Firestone Hospital Duside — a hospital on the Firestone Natural Rubber Plantation in Harbel, Liberia — and provides room and board for volunteers. In addition to a goal of completing 80 surgeries during this mission, CSI is committed to providing training and education for local personnel so they can continue this important work. 
Lora Koppel, RN and CSI board member, is the clinical lead for this trip. She was part of the team that first established CSI's Liberia partnership in 2008 and has traveled on each mission since. Lora says she is continually impressed by the talent and determination of the staff at Duside and credits the mutual respect as being paramount to CSI's success in Liberia. "Everyone wants to be part of the team when we arrive."
Duside RN Tetee Urey-Morris was so inspired by the mentorship of CSI nurses that she eventually joined CSI as a volunteer nurse, traveling to Ethiopia on the spring and fall 2019 missions. Lora sees Tetee's evolution from in-country staff to CSI volunteer as proof of the lasting impact of CSI's dedication to education.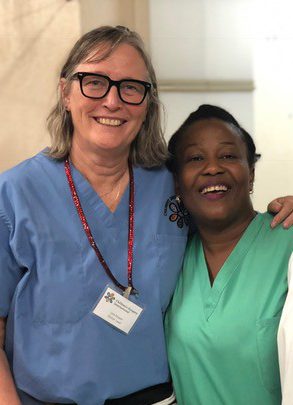 Next week, Lora will be at Duside during screening day when dozens of children will be given a chance at life-changing surgery. It's a happy day for many families, yet others will unfortunately not receive surgery. Lora is focused on helping them, too. The mother of a child who swallowed permanent hair solution, resulting in a  burned esophagus, reached out to CSI for help in advance of the upcoming trip. While surgery is not an option for this boy, Lora is working on collecting protein powder and a blender to provide this family with resources to give him better nutrition. Similarly, Lora shares, "Families have brought babies that may be too young for a cleft palate repair. We can't add them to our schedule, but we can provide specialized bottles that will help with feeding." 
Lora is proud of CSI's commitment to providing some of the world's neediest children with a chance for a better life, whether that be a surgical intervention, new resources or education for their in-country providers. Her hopes for this trip? "To continue being able to reach kids in remote areas that would otherwise not have access to healthcare. I want families to know that if they come forward we will try to help."