Play is Medicine – Ethiopia Fall 2018
You don't need to share the same language, live in the same country, or even look the same physically to play. Play can start from something so simple, like a smile, and become contagious to all those around. As a child life specialist in Minnesota, play is the at the core of what I do.  Here in Ethiopia, I realize the power and influence of play – not only on the kids but the adults too. It is something that is therapeutic for everyone – play is medicine.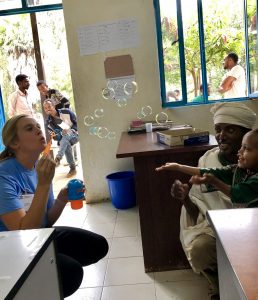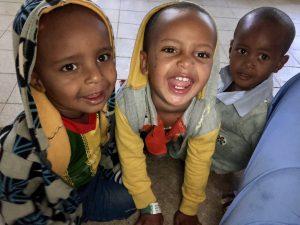 Eleven-year-old Kidus had to wait the longest for his urology surgery at the end of the schedule today. At first, he just watched as the younger kids played with bubbles and colored. But after a few invitations he joined right in. Age doesn't matter. Kids want to be kids. His favorite thing was to create a mini basketball hoop out of pipe cleaners and tape. After some modifications, we were able to shoot baskets and even come up with trick shots to perform. It was entertainment for Kidus as well as our cheering section of parents and families.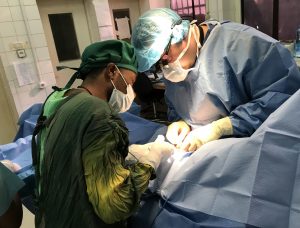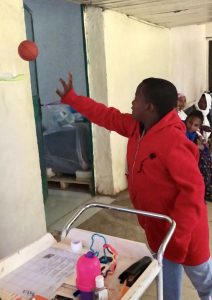 Today 3-year-old Natanael loved playing with everything we had. We spent hours doing stickers and coloring, laughing, trying to catch the bubbles, and playing with little wood cars. Right before he went in for surgery, Natanael was playing with a small beach ball. Fast forward a couple hours to once surgery was done, the one thing he was crying for was the beach ball. Play is powerful and integral in helping kids understand and cope with their medical care.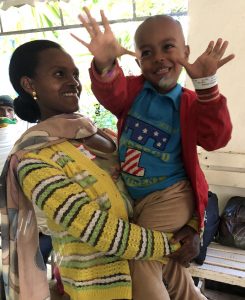 The local surgery team is getting a chance to perform what they are being taught from the CSI surgery team and at the same time, kids are getting a chance to practice what they are learning through play. Play is the work for kids. Our CSI team is changing lives in more ways than one, one surgery and one activity at a time.
Sarah Stenson ~ CSI Medical Records Volunteer
Click here to see more images from Ethiopia.