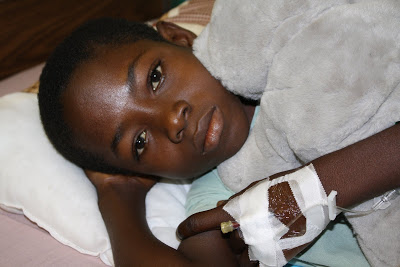 Monday and Tuesday at Duside Hospital in Liberia
Two very very busy days in every part of the hospital. After 23 patients on Monday, Dr. Steve Muehlstedt walked back into the Guest House and announced "that was by far the best run day of surgery I have ever experienced in all of my trips with CSI". Go team go!!!
Monday also had Partner Katie Stewart and Sally Lannin visiting an AIDs orphanage for children and adults , run by Mother Teresa's order of nuns. It was a very humbling experience. Team member Jody Pelkey donated a large bag of shoes. They then visited the Frances Gaskin orphanage and fed 80+ kids a great meal of rice jollof , cookies and Tang. Many went for seconds! Books were read, and donated to the school as well as a number of school supplies.
Today, Tuesday, was a very busy day with the U.S. Ambassador to Liberia Linda Greenfield visiting Duside Hospital. She spent time with all the team members as well as Dan Adomitis and his team from Firestone/Bridgestone. Ambassador Greenfield even had her first experience observing in the operating room. Patience and LouAnn of our team had the opportunity to spend more than 2 hours educating 20+ Liberian medical students in a number of areas. 21 surgeries took place today and by the time we left the hospital, the Peds ward was in high gear. Everyone wanted dinner, pain meds or to go to sleep. Parents as well!
I had an opportunity to speak at length with one of our patient's father, who is 26 and studying computer science. Not only is he unusual in that many more mothers accompany their children than fathers, but he is far more educated than most. He spoke poignantly about being a school child in Liberia and hearing helicopters and shooting take place when Liberia was at war. He and his parents fled to Ghana and at times survived only on plants they found in the forest. Fortunately his parents were well educated and did everything they could to see to it that he got a good education after they got out of the refugee camp. He returned to Liberia in 2007 with a wife and child and an interest in continuing his education. His wife now teaches school and makes $60 US per month and he is studying and has a second child. I wished at that moment that I had brought an ipad to give this man so eager to learn. Another father had tried 2 previous years to get on the CSI schedule and finally "was accepted" this time with his son.
The day was saddened by one of the favorite Peds ward night nurses being in a serious car accident. She suffered significant injuries to her head and was brought into the OR for surgery by Duside's Dr. Sherman. Dr. Lander of our team coached him on the eyelid repair and the good news is other than a nasty scar she should fully recover.
Tomorrow afternoon our second pediatrician, Dr. Tim Wood departs for the Twin Cities.This has been his first CSI mission and definitely not his last.