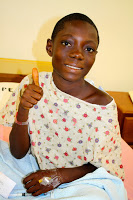 Liberia Day 2 and 3: Sunday and Monday
First, wow what a full day of screening we had from the crack of dawn until the end of the day Sunday. We arrived at Duside Hospital first thing in the morning where patients had begun lining up at 3 in the morning. Surgeons Eric Moore, Dave Vandersteen, Janelle Fox and Dave Andrews screened 107 patients and they will operate on close to 90. Medical records created a chart(yay Katie Stewart and Julieann Swanson): vitals were taken (yay Victoria Vandersteen, Anna Koppel, Patience Kankeh, Mary Bye and Amy Hassenstab:pre-op physicals were performed by pediatricians, Paul Melchert and Dave Tetzlaff. CSI Board member Con Nguyen and videographer Nolan Morice took some fabulous video of the entire situation as well as gathered wonderful patient stories. Logistics co-lead Leon Randall(with Con Nguyen) unpacked and moved furniture and did all he could to get us fed, as well as back and forth from the hospital to the guest house. As clinical lead Lora Koppel floated everywhere and answered 348 questions. Fantastic Jill Moore and Margaret Boone helped set up the OR's and then went above and beyond putting together all the patient recovery room bags. Mary Johnson, Jodi Pelkey, Tracey Ryersee and anesthesiologist, Raj Sarpal also did OR set up. Firestone executive Don Darden was in full gear at the balloon machine making all the kids ecstatic. Of course Lynn Randall and Dan Chow were getting the anesthesia organized. On top of it all, hospital administrator Joye Phillips was doing just about everything from organizing logistics, moving furniture and even making a few beds!!
At the end of the day back at the Guest House we were treated to a lecture by Ed Garcia, Managing Director of Firestone Liberia who recounted what life was like in Liberia while he was here during the onset and surges of the war in the 1990's.Also, Liberian born and Denver-practicing attorney, Gerald Padamore, who represents many multinationals including Firestone and the Liberian government spoke about Liberia's history vis a vis the United States. The medical records team with the help of some other noble volunteers cranked until after midnight getting the charts organized, sorted, photos attached etc.
It is now midday Monday and the first day of surgery is in very full swing. 4 operating tables are being used constantly, with Duside's Dr. Sherman participating and learning. I have been moving from mother to grandmother to father to brother to aunt- whoever is the kind soul who has brought in the patient- capturing the stories of the journeys that have brought in the patient-capturing the stories of the journeys that have brought them here. 7 year old Ruth's mother sells used clothes and has spent her child's entire life trying to find someone to repair the cleft palate she was born with. Ruth is very bright and in fact is in the grade ahead of her twin sister,despite her problems speaking. Her mother said, "It breaks, my heart that the children at school make fun of her. They say, "we can't understand you- you talk through your nose, Ruth." As a result Ruth is now begging her mother to let her drop out of school.