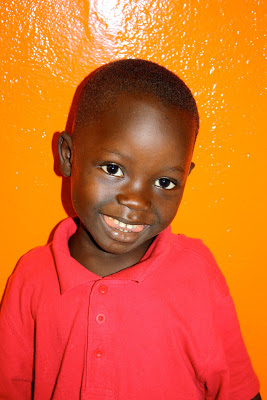 Last Day of Surgery: Thursday at Duside
Some of the first names of the children here are spectacular: Precious, Faith, Joy, Prince, Marvelous, Handful, Princess, King, Miracle, Godgift. How can one not smile when a child named Wonderful grins at you?
It is a very busy final day of surgery with hopeful families and their children waiting for their name to be called. I just spoke with a father who has tried for 3 years to get his son's hypospadias repaired. The first year he waited in screening and learned we didn't have an urologist on the team, the second year he was cancelled at the last minute because one of our surgeons became ill. Finally Jason is heading into surgery – father and son just walked out the door with one of our nurse anesthetists and everyone in pre-op let out a huge cheer!
We awoke this morning at 5:30 a.m. to a fabulous first: torrential rain falling on the metal roof of the Guest House. It is rare for it to rain this time of year, and it was a welcome cleansing of the dusts of summer south of the equator. Every evening during our stay the Guest House we have been treated to the fare of a different country: Thai, Lebanese, Moroccan, International, Liberian Seafood (featuring a 4 foot barracuda, the head of which was consumed by team member Patience – of Liberian heritage), and tonight is Chinese. We are being treated so well by the Firestone staff!
Over the course of our stay here, the team screened 120 patients; of those 99 will have received surgery by the end of today. We have made a concerted effort on this trip to focus on training the Liberian professionals at the hospital. It has been far more important for the surgeons to teach the Duside doctors how to perform certain procedures than to rack up as many surgeries as possible. As a result, spirits are especially high and as Steve Muehlstedt said so poignantly tonight at dinner, "this has been an experience of true teamwork".
And the patients are very happy, albeit sore. Without exception when I have asked a patient's parent if they have any suggestions for CSI on our future trips, they say something to the effect of "thanks be to God for you people". Shown also in this blog entry is a mother and son who both received cleft repair, courtesy of a combination of Tim Lander and Duside's Dr. Sherman. We are amazed at the patience of the children who wait a long time to be called into surgery, especially those who are scheduled later in the day. No bickering over toys, no impatient parents, no fighting to jockey for position; just complete resignation to the process and a willingness to wait however long it takes for a chance to get the expertise of the "doctors from America".
After discussions with Dan Adomitis and hospital administrators, it looks highly likely that CSI will return to Liberia in November of this same year, instead of waiting until January '13. Because of this, we are boxing up supplies and storing them in a locked closet after taking inventory of what we are leaving behind.
Final post tomorrow after we get fully packed, make rounds on the patients and celebrate the successes with the Duside staff. PS- this added after dinner; the kitchen staff surprised us with a Thank you cake:) As I said before, we are spoiled…..