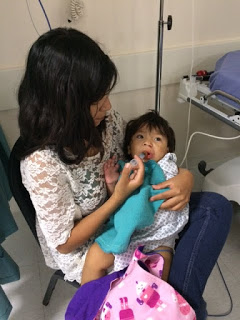 Full Screening Day and Settling in to the First Day of Surgery
Yesterday we had a really busy screening day at CIMA hospital! We screened 89 children and out of those, 46 will be getting surgery this year. Happily we did not have to turn anyone away who needed surgery because we have the extra surgery day on Tuesday. We will be doing six rhinoplasties ("nose jobs"). Often the nose is flattened and asymmetrical in children with a cleft lip or palate, and having surgery to correct this can really improve their appearance and their self-confidence. Rhinoplasties take a long time, and normally with only two days of surgery we may do only one or two so this is a great opportunity for us and the kids and their families!
Everyone on the team is doing fine, and now we are just getting started on our first day of surgeries. The CIMA hospital volunteers and the St. Andrew's clinic volunteers are, as always, wonderful to work with and they make sure that every child and family is well taken care of!