First days in Hermosillo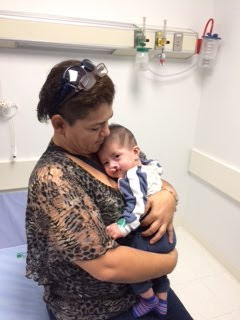 First days in Hermosillo
Nineteen CSI surgical, medical and nursing volunteers made their way to Hermosillo, Mexico, this weekend from various locations around the U.S. A few flight delays made connections difficult, but the team was grateful that American Airlines was willing to hold a departure so the CSI volunteers (and their vital equipment) could make it to Hermosillo on time.
St. Andrew's Children's Clinic in Nogales, Arizona and CIMA Hospital in Hermosillo are important partners for our Mexico surgical missions. The St. Andrew's Children's Clinic is involved in critical advance preparation for the CSI team, making certain the children are ready for surgery and that consistent follow-up is maintained. Because of CSI's long-term partnership with Hermosillo, we have been able to follow some children over several years, making certain they have the ongoing care and subsequent surgical procedures that are sometimes required in these complex cases.
CIMA Hospital in Hermosillo welcomes the CSI and St. Andrew's Children's Clinic team with wide open arms each fall. Their staff and volunteers are amazing. Not only are the children and families treated with the utmost care, we are as well. Our welcome included singing, balloons, hugs and even tears of joy.
The team is in the midst of its third day of work already. Our first day on the job was filled with screening 122 children accompanied by very hopeful parents. A team of four specialized ENT, oral and maxillofacial surgeons, pediatricians and pediatric nurses evaluated the children – while the anesthesia team and OR nurses readied the operating rooms for several days of packed surgical schedules ahead. Once all the children had been seen, the surgical schedule for the week could be finalized.
The first day of surgeries was long and productive. Twenty kids had life-changing procedures, which require a team effort. Tasia, our medical records volunteer, has many responsibilities. She manages medical records, directs traffic, translates, dresses kids for surgery, comforts crying babies and supports anxious parents. (and this was all in her first four hours on the job starting at 6 a.m.)
Let me tell you about baby Manuel. At 15 days of age, his family left him a village hospital. Manuel had been born with a bilateral cleft lip. His parents may not have known that a relatively simple surgery could repair the problem. They may not have had the financial resources to pay for care. They may not have understood that there doesn't need to be any shame in giving birth to a child with a defect. They may have been ostracized by their community. Manuel is now 6 months old and has been living in an orphanage. He is ready to have surgery to repair the birth defect. The CSI team is thrilled to provide the care he needs to thrive and grow. He is pictured with his caregiver, Carolina, who loves him as her own.
---