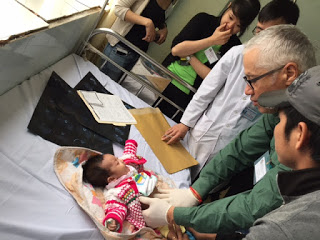 First Day at the Hospital for the Vietnam Team
After a meeting with our partners at Thanh Hoa pediatric hospital, we began evaluating the many patients waiting to be seen by urology and ENT surgeons. Many patients and hopeful families had traveled long distances to see CSI.
Because we had a team here six months ago, we have the ability to see some children in follow-up who weren't ready for surgery at that time. Returning after just six months also allows for more continuity in our education and training models, as well as streamlining and improving our processes with the hospital staff and administration.
It was a very busy but interesting and successful day. More than 100 children were evaluated for potential surgery. Some will be ready for surgery this week, while others may need further testing and diagnostic work. To a few families' joyful surprise, their children had normal examinations and did not require a procedure.
While the children were being evaluated, our OR anesthesia and nursing teams spent the day setting up the operating rooms, assuring they had all the necessary equipment ready to provide safe and comprehensive pediatric surgical care, and meeting with their Vietnamese colleagues.
Our team is enthusiastic, resourceful, committed, hardworking and fun! CSI is thrilled to have a few nurses and physicians with us in Vietnam who are new to CSI. It really doesn't take long for a group of passionate people to become a cohesive team. The children and families waiting for us here give us the energy and focus to give them our best.
As always, our focus is on education for local health professionals. We will be working alongside Thanh Hoa hospital surgeons, physicians, nurses and administrators every step of the way this week.
~Linda Sedgwick