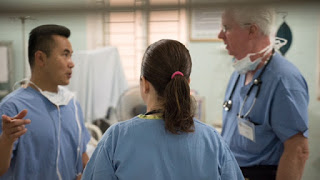 Finally Arrived!!!
Even before we arrived in Liberia, our adventure began!  Friday morning we found out that our last flight between Ghana and Liberia was cancelled, potentially causing the mission to come to a halt.
We made it to JFK in New York, still unsure of the plan once we arrived in Ghana.  We didn't know if we would have to spend the night in Ghana or if another airline would be available to take us all the way to Liberia.  Our plans in Ghana didn't matter at this point as Delta wasn't going to let us on the plane, due to the fact that we didn't have Visas for Ghana.  Sue worked tirelessly to get us Visas for once we arrived in Ghana, but Delta wanted us to have them before they would let us on the plane.  After hours of verbal persuasion and negotiating, 2 plane delays and potential bribery, we were finally able to board the plane.  12 hours later, a representative from Firestone met us at the Ghana Airport, informing us that a Kenya Air flight for Liberia would be leaving shortly; unfortunately our bags would not be able to make the flight.
More Firestone representatives met us in Liberia.  They took all of our passports allowing us to bypass customs.  We were then transported immediately to the Firestone Guest House where we were finally able to eat dinner and relax after a very stressful day of travel.
It is a miracle that we finally made it here!