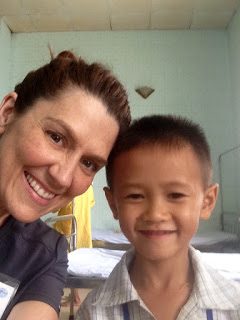 Fall Vietnam Mission Completed
Our fall Vietnam mission is complete. With the support of our mission partner IPSAC and the Provincial Hospital leadership and surgical, medical and nursing staff, we were able to successfully perform 24 urologic procedures on children in need. In addition to these surgeries, knowledge was transferred at all points in the continuum of care – from the bedside to the conference room. We collaborated to do screenings, provide pre- and post-op care and family education and, of course, hands-on training in the OR. On our last day, we did a workshop on optimizing surgical outcomes with a multidisciplinary approach. It ended with a good discussion illustrating the differences between our healthcare settings and the impact resources have on patients and teams. We were also supported by a very committed and helpful team of interpreters all along the way.
The children and families we encountered this week were absolutely amazing. It was especially touching to see how children and families supported one another, even though they may not have known one another prior to coming to us for surgical care. One father helped a pregnant mother by carrying her child for her. They supported one another with encouraging words and friendly smiles. They worked together like one big family, challenged while being far from home and stressed by the prospect of their children needing surgery, but all on a similar journey.
Even the children offered encouragement to each other. Our last case of the day on Thursday was the special little boy pictured in the photo. Because eating and drinking prior to surgery isn't allowed, the other children waiting for their procedures were hungry and thirsty. He helped to calm and distract them by blowing bubbles, offering them toys and playing with them, all with a huge smile.
After leaving Thanh Hoa, most of the CSI team spent an additional day in Hanoi where we visited Blossom House, a foster home for girls aged 5-18 years run by Humanitarian Services for Children of Vietnam. HSCV is a non-profit organization founded by Minnesotans Chuck DeVet and his daughter Annetta. The home provides holistic care for girls from families living in extreme poverty. Learn more about HSCV at www.hscv.org. Our friends at HSCV provided us with critical logistical support and translation services for our medical mission in Thanh Hoa, so we were grateful to be able to, in turn, provide support and information to the girls at Blossom House.
Our team offered a workshop for the girls titled "Take Care of that Temple," with a focus on positive self-image and self-care. The girls really enjoyed writing positive messages about themselves and their peers. We also discussed and demonstrated the importance of hand hygiene, which was identified as a strong need and was well-received. We hope to continue to partner with HSCV and visit Blossom House on return missions to the region.
Thanks to Dollies Making A Difference, we were able to leave some sweet hand-made dolls with the girls. The girls so appreciated the gifts.