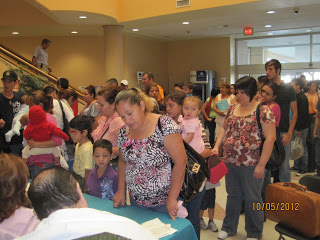 Day One Hermosillo
Six members of the CSI team arrived in Hermosillo yesterday. Today we were greater by 96 children and their families. This medical mission is a joint effort of the volunteers at St. Andrew Clinic in Nogalas, Arizona, the CIMA Hospital, in Hermosillo, Mexico, and the the Children's Surgery International organization.
Of the 96, 44 children will be operated on in the 3 days we are here. The remaining children will be followed up by the St. Andrews clinic staff and hopefully will be back next year. The children are selected based on the complexity of their medical problems and the type of surgery we are able to provide.
Thanks to our team members we worked 12.5 hours and were able to see all 96 children. The screening team included: Dr. Daniel Sampson, Dr. Jon Grischkan, Dr. Paul Melchert, Lora Koppel RN, Marian Hehre and Leal McAuliffe  Medical Records.