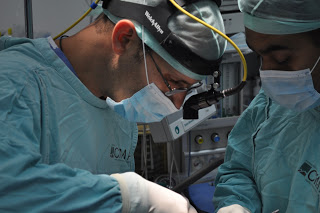 Day Four Hermosillo 2012
Today we had only 10 surgeries and most of the patients were discharged from recovery.  We kept two patients overnight to make sure they were up to discharge in the morning.
As with any mission, there were some inspiring and heartbreaking stories of several of our patients. One of our 15 year old patients was abandoned when he was younger, 5 or 6 he thinks, and has beenliving at a service station since they took hime in several years ago.  They would find him sleeping in the shop for shelter.
Another young woman, now 17, was separated from her parents while trying ot cross the U.S. border on their way to a better life in the States from Guatemala.  She never reuinted with them until this week through a phone call, which made her very happy!  During the years of their separation she had been liing with friends or relatives when she was younger and then made her way to Mexico at the age of 13 or so.  She was then taken in by a family in Hermsillo as a housekeeper.  She has been wanting to improve her life, but she cannot speak!  She came to screening, thanks to Coca and Laura (of St. Andrews) and the CSI team knew after evaluting that they could and would help her.  She came through surgery beautifully and was smiling, talking and giving the thumbs up right after waking up in recovery!  Her first words were "thank you" to the CSI team and all the volunteers who made this happen for her!
Tonight we celebrate: the success of the mission; the collaboration of all the teams; and the making of wonderful new friends at the traditional "banquet",  fiesta style!
This little guy stole our hearts. CSI could not do his surgery last year and told him to come back this year.  Here is is with Coca (the saint) of St. Andrews and Dr. Paul Melchert, pediatrician, waiting to a hospital gown and gear on for surgery.