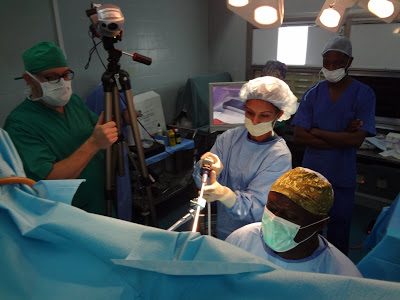 Dakar 2011 – Week of Filming
Hello again all! Sorry for not writing more regularly this week but I figured our update for the end of the week would be more meaningful! We have had a busy week of video recording and directing to obtain all the necessary material for the development of our surgical trainer. We have completed taping about 10 fistula surgeries showing a multitude of variations that will be critical for the learner.
Our hosts Hopital General de Gran Yoff and specifically Dr. Serigne Gueye and his team have been incredible! David and Pete made it here (albeit Pete a day late) with all our equipment in tact and in tow! They have been so accommodating in understanding the video process and ensuring the surgical steps are clearly delineated so that we can capture each step precisely for the trainer.
Here is a picture of our OR set-up which miraculously worked without a hitch! Thank you Tanya from Stryker and kudos to David and his technical genius!
I have lots more to share as our week comes to an end. Will add a longer post tomorrow but I wanted to get something up there to share with you all!