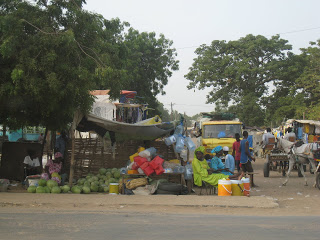 Dakar 2011 – Ranerou Second Day
The second day in Ranerou began with a line of patients waiting to be screened for various medical complaints. After screening the patients we unfortunately did not have any more fistula cases but did schedule surgery for complete uterine prolapse in a young woman after childbirth and two large lipomatous lesions.
We completed our cases with the assistance of our surgical team and rounded on our patients from the previous day who were all doing well. The fistula patients will be cared for by the Ranerou team of doctors and will stay at the hospital till their catheters are removed in 1 week.
It was an enlightening trip to the heart of Senegal and a view of the daily lifestyle of the people here. The work being done by Ranerou's medical team is impressive and shows their dedication to the care of their people and ability to adapt to limited medical equipment and supplies.
We left Ranerou with warm hearts and a full stomach after sharing in our communal meals and living with the medical team. I also left with some additional memories given to me by the mosquitos of Ranerou who feasted on my foreign blood (my bug spray was in my delayed luggage!).
Au revoir Ranerou and off to Dakar to plan for the filming and fistula surgeries scheduled for next week! (Below is a picture of one of the many small markets en route Dakar).