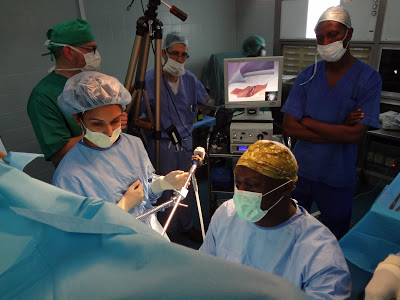 Dakar 2011 – Filming in Dakar
Set up in the OR with the whole team. Can you see the concentration of the whole team as we work hard to ensure that we capture the valuable imaging we need to make this project a success!
It has been an incredible trip. We have learned a lot through our collaboration with our Senegalese partners and created relationships that will allow for continued efforts in teaching fistula surgery throughout the developing world.
Our hosts have been incredibly gracious. We have had the pleasure of meeting religious and community leaders, members of the UNAFP, and medical personnel from the entire hospital as well as visiting doctors from the US. It is wonderful to see the excitement of everyone in working on this difficult issue.
Today we had the opportunity to round and interview on our patients and it was amazing to hear their stories again and how happy they are to be dry for the first time in many years.
This has been an amazing trip.