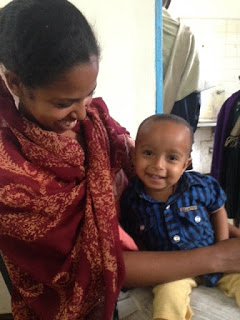 CSI Ethiopia surgical mission is underway!
We have safely arrived in Ethiopia, and most of us on the CSI Ethiopia team finally have our internal clocks turned around after the long journey. During our one hour layover in Jeddah Saudi Arabia we saw several gentlemen making the long pilgrimage (hajj) to the sacred city of Mecca, garbed in traditional white sheeting.
After a night in Addis Ababa, we took a morning flight up to Bahir Dar, the 3rd largest city in Ethiopia on Lake Tana. We had a small snag with seven pieces of luggage delayed in customs, but after some terrific interventional work by our team member and cardiologist, Dr. Woubeshet Ayenew, the bags were released. Also, a big shout out to Habtamu of Taitu Travel for driving the final pieces of luggage 560 kms to Bahir Dar. His terrific efforts allowed us to proceed on without missing our flight.
Our hotel, Asinuara Hotel, is conveniently located just two blocks from the Felege Hiwote Hospital.  We were able to walk to there for a tour and introductions when we arrived yesterday. Drs. Asnake and Melesse have been our Ethiopian partners since the CSI site team made their first visit to Ethiopia 6 months ago to begin planning for this surgical and teaching mission. The hospital is a well matched partner for CSI. Not only are there enthusiastic physicians interested in being trained, but the entire hospital administration and staff is committed to our knowledge-transfer model. Apparently there is no shortage of service organizations willing to come to the region to perform large numbers of surgeries over a number of days, but what this hospital really wants is training. They ultimately want to be able to perform the surgeries independently, and this is a perfect fit for CSI.
After an evening of catching up on sleep, dining at the hotel, or riding tuk-tuks to a lovely local restaurant, we were all awake early and ready to roll for screening day at the hospital.
Set up was efficiently completed, and the patients started flowing in to either the urology or ENT screening room. The urology team is managed by Dr. Francis Schneck, new to CSI from Pittsburgh and a fabulous addition to our team. Medical records team member Katie Stewart, Victoria Vandersteen and others worked with Dr. Schneck to screen the urology patients.
The ENT screening room was shared by Drs. Tim Lander and Andrew Scott, with assistance from Medical Records team member Aliza Ameen. Aliza and CSI Partner Mary Moore demonstrated their resourcefulness by finding the mop closet where they grabbed a mop, bucket and soap to clean up an "oops" on the floor of the pediatric exam room. It was teamwork at it's best.  Mary was also taking photos, and moving the patients from the surgeon's screening area to the Pediatricians/Vitals area managed by Norie Wilson, Maria Rubin, Dee Vanderpol, Amy Erlandson and Molly McIntyre. CSI Pediatricians Drs. Dave Tetzlaff and Paul Melchert examined the patients, ordered labs, and made decisions about which children were ready for surgery this week. All in all it was a very successful screening day. Sunday will be a day off for the Sabbath, which is honored throughout Ethiopia, and we will start surgeries on Monday.