Celebrations – Partnerships – Joy, Mexico 2018
What an amazing screening day. Our partners at St. Andrews and CIMA Hospital have been working hard all year to prepare for today. They pre-screened hundreds of children to determine which were candidates for surgeries with our team. And today the CSI team, in collaboration with our CIMA Hospital colleagues, screened 110 children for surgery this week. Many were told to return in the future for re-evaluation and checkup; that is one of the unique and special things about this site. For this week, we plan to do 62 surgeries on 57 children in three surgery days.  

One of those children is 21-month-old Yoel. Yoel will have a palate repair on Saturday; his needs are more complex as he has a tracheostomy and a feeding tube. His mother is beyond grateful that he will be having surgery this week. She was told when Yoel was born that he'd likely not live past 4 months, and here he is at 21 months. He will continue to surprise everyone after his palate repair and more progress.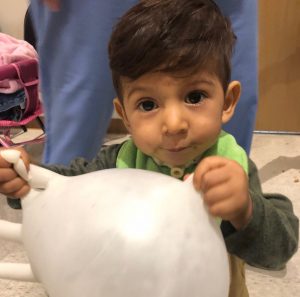 Midway through screening the rest of the CSI team arrived. We were welcomed to the hospital with a wonderful celebration – complete with a band, balloons, songs and many hugs! We are thrilled to be a part of this great community and cannot wait to get to work.