Catherine ~ Liberia 2018
Thursday was the last full day of surgery on our Children's Surgery International mission trip. Tomorrow we will pack up, have a celebration ceremony and start heading for home. It's been a successful trip, with more than 100 surgeries, 11 seminars for local nurses and doctors, and lots of hands-on teaching by the surgical team.
Today has been a very special day for me. I had the opportunity to watch a cleft lip repair surgery on Catherine, an 8-year-old girl from rural Liberia. The pictures provide before and after pictures of Catherine as well as photographic proof that I was actually in the OR for the surgery! (I'm the one in the maroon scrubs as a non-medical volunteer on the trip, working with medical records.)
The pictures are dramatic, but there's way more to the story. You might notice in the after photo that Catherine was eating applesauce and was being a bit messy after surgery. She had never been able to use her upper lip to get food off of her spoon, and she was learning how everything works with her new, intact lip. Her ability to eat and talk will improve significantly as she heals.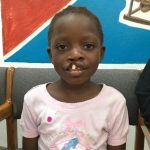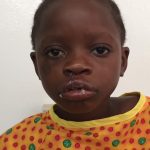 After surgery, I went to the family waiting room with Anna Koppel, RN, to bring Catherine's aunt to the recovery room. When we called Catherine's name, her aunt jumped up and practically danced to the door. As we made our way back to recovery, she exclaimed that Catherine would now be able to attend school. She related that when Catherine was with other kids in her village, they would stand in a circle around her and simply stare.
Catherine's aunt had heard that CSI was coming to Liberia and was determined to give Catherine this chance at a better life. She rode her scooter an hour into the bush to get Catherine and then another four hours to Firestone Duside Hospital.
I'll end by acknowledging with thanks the work that CSI does to make such miracles happen, and for the gifts of people like Dr. Brianne Roby, Catherine's surgeon.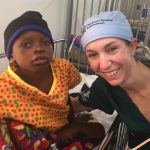 Sincerely, Mike Tveite, CSI medical records volunteer
See more photos from our trip here.