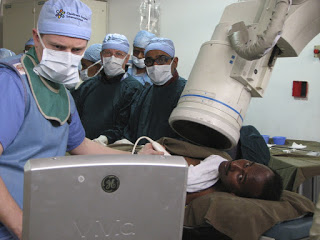 Cardiology Team Still at Work, Making a Difference in Ethiopia
Most of the CSI Urology and ENT team members have returned home after a successful week of teaching and completion of life-changing surgical procedures in Ethiopia. The cardiology team, including Dr. Ben Johnson, Dr. Woubeshet Ayenew, Dr. Ron Johannsen, Dr. Brinder Kanda, and Colleen Johanssen, R.N. continue their work in Addis Ababa. They are performing procedures in the cardiac cath lab that repair heart damage due to diseases uncommonly seen in the U.S.
Sticking with the CSI mission, the cardiology team's goal is knowledge transfer at all levels of the cardiac care model. Every interaction with patients, cath lab nurses, ICU nurses, staff physicians and cardiology fellows has been leading to care enhancement for patients here in Ethiopia. Since rheumatic heart disease is very common in the region, we are also indulging in the local expertise on certain aspects of disease management. Colleen Johannsen R.N. gave a lecture on ECG interpretation this week to approximately 60 medical students, resident and fellows. They are so eager to learn!