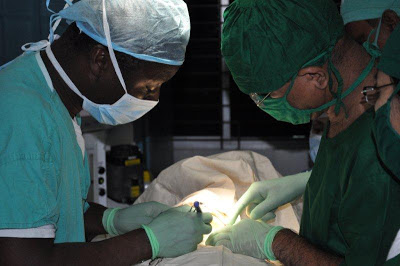 Bangladesh Mission
Couldn't resist photographing these precious little toes. After surgery, the children go to recovery, where they are covered with blankets, made by the many csi volunteer, sand monitored until they wake up. Then the moms are called in to comfort them.
The days are packed! As of today we have performed 74 surgeries and screened many more potential patients as the fact that we're in town is spreading. The list of patients for next year's return has been started. We had to turn away two very little babies, one just 30 days old. Although they did not receive the answer they wanted, Jan showed the moms how to feed their babies with a cleft lip and/or palate and asked to come back next year. With this type of knowledge and skill, their children have a better chance of thriving and they have hope that we can perform surgery on them next year.
There have been so many highlights, wonderful moments, and just plain funny events. There are many things we see in the hospital here that one would probably (make that definitely) not see back in the states.
The hospital does not have air conditioning, except in the operating rooms, so many windows are open and all kinds of flying things enter the building. We are greeted by some beautiful butterflies fluttering along the halls, crickets peeking out from corners, and of course flies-even in the or. Hospital laundry can be seen hanging to dry on clothes line on the roof. And many hospital workers go barefoot, even into the OR!
We have delicious lunches made and packed by the staff at our guesthouse and there are wait staff in the "lounge" the make tea and coffee. The doctors here all have wait staff that deliver tea, water and meals .  It's very different that home and is rather hierarchical. There are always people sweeping the halls and walls throughout the day and night, otherwise the hospital would be coated in a light layer of bugs and such. Bangladeshi brooms are made of long grasses bound together. One of our nurses commented how nice it would be to take one home and hang on her wall.
There have been a few minor crises, but nothing the collective genius of this group can't tackle! Upon arriving at the hospital one day we found that the or surgery lights were not functioning. We put the word out that head lamps were needed and several of the team came through. This was after we we devised a way we could duct tape a flashlights to each surgeon's forehead! Fortunately after a few hours the lights were fixed and we were back in business.
It's been wonderful to witness the results of our gifted surgeon's expertise. Babies and numerous adults have had their lives transformed and so many have expressed their gratitude with their smiling eyes and by placing their hands to their hearts. One young man in his early 20's was accompanied by his best friend and together they traveled over 150 kilometers. The friend was so excited for this young man and could not contain his excitement. Another young woman had a severe facial cleft. She has never been to school, although has received her education at home, has no friends, and rarely has left her home in 22 yrs. Dr. Kofi said, "I really want to do this surgery for her." He did and the results are amazing!
It has been a great mission and what we have witnessed here make us greatly appreciate what we have back home.