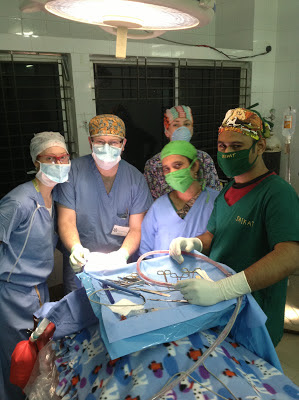 Bangladesh 2013 – Surgery Day 5
Today was our last day of surgery, and finished up the last 8 cleft lips on our schedule.  It was a hectic day as we had to simultaneously had to operate, finish CPR training, pack up the ORs and all of our supplies, and say our goodbyes to all the hospital staff we had worked so closely with throughout the week.
We will also miss the creative energy of all the patients and their siblings livening up the ward.
It was tough to let go. Heather, Norie, Saira, and Aliza transitioned care of the remaining post-operative patients to the RCMC hospital nurses during their final night before discharge.
As the CSI team began to finish up at the hospital, a few decided to go on another rickshaw tour of Rangpur.  We got a great feel for the city, and they took us to the Rangpur Zoo. The Zoo had a beautiful park, and a wide variety of animals, however we noticed some cultural differences in how locals interact with the exhibits.
We wrapped up the evening with a ceremony to recognize all of the hospital staff and administration's hard work throughout the week. We handed out certificates of appreciation and certificates for completing CPR training, in addition to holding a raffle. The big hit of the night were the traditional Bangla folk dances that ended with the entire CSI team awkwardly joining in. It was definitely a highlight of the week to all watching.
We ended the evening with a dinner back at our hotel (RDRS) with a select few hospital administrators. It has been a long, but very rewarding week. Tomorrow we sadly will begin our travels home too soon.