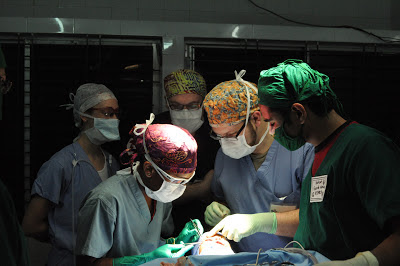 Bangladesh 2013 – Surgery Day 3
We woke up bright and early this morning, and found ourselves in the Nationwide section of the Rangpur newspaper!
Then we were off to the hospital to begin our day.  All week we have been working on the 5th floor of the Rangpur Community Medical College Hospical, where we were able to have pre-op, two OR rooms, storage, post-op, PACU, and the ward all in one area for our convenience.
As our day began, Nurse Dody continued her CPR class for the local nurses and staff, who completed their training.
Dr. Tim, Dr. Andrew, and Dr. Raj continued surgeries today, completing 7 operations including a mix of cleft lips, palates, and one facial cleft. Everyone was excited as local surgeons began successfully performing surgeries of their own.
On the ward, the floor nurses and pediatricians held a discharge meeting with all of the parents of the children ready to head home. They answered questions and addressed any concerns the parents had, and also explained medications and proper home care to ensure the comfort of the kids.
Exhausted from a long day, we returned from the hospital, had a delicious dinner, and fell quickly asleep.