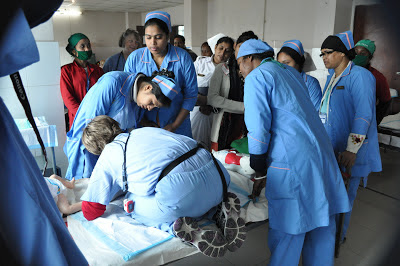 Bangladesh 2013 – Surgery Day 1
Surgery – Day 1
We were off to an early start this morning, finished breakfast and arrived at the hospital by 7:30, only to find out there are some cultural differences in the concept of time. In any event, three operating tables were put into action and began the first of eight surgeries today.
Meanwhile, while the postoperative team prepared for the arrival of their first patients, Nurse Dody taught CPR to a group of local nurses and other staff.
We had a successful day of eight surgeries, with a mix of cleft lip and cleft palate repairs performed. We were also able to screen today a few new patients and have added them to the schedule for later in the week. The patients are all recovering nicely, as is the medical team. Our night crew has taken the reigns and we're all prepared for another busy day tomorrow.