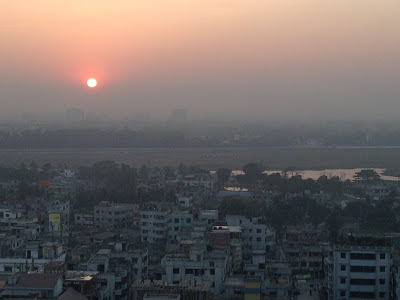 Bangladesh 2013 – Final Day
This morning a few CSI team members returned to the hospital to do the final round of discharging patients, and make sure we had all of our supplies packed up. When they got back to the hotel, we loaded up our bus, and were on the road back to Dhaka shortly after 8 AM. Thankfully, we had a much shorter bus ride than last year's team (21 hours due to the holiday Eid), and arrived safely at the Dhaka Regency around 3:30 PM, with time to relax before dinner.
The RCMC Hospital CEO, his wife, and other guests came to the hotel's Restaurant to have a delicious buffet dinner with us on our last evening together in Bangladesh.
It was a bittersweet dinner as we all began to say our farewells. In the morning, about half of the group will be traveling further south to Chittagong for a few days on the beach before returning to the States. The rest of the team has been invited over to Raj's family's home for lunch before heading to the airport.
All in all, we had a fantastic and very successful trip thanks to all of the RCMC Hospital staff and administration, the people of Bangladesh who have assisted us along the way, the CSI team members here in Bangladesh, and support from everyone at home.