And That's a Wrap – Tanzania 2018
And just like that, we're done…until next time, Arusha! After months of planning and preparation,we did it. In all, we screened 70 children and completed 37 surgeries and 2 procedures. Our surgeons delivered two lectures, our nurses provided classes daily, and we did hands-on collaboration and training every step of the way.
The OR team ended the week with an amazing lunch together. It was a wonderful opportunity to sit and reflect on the week with the staff. And the ALMC team even sang us a farewell song!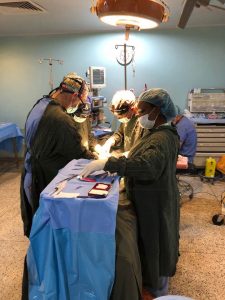 Today after the surgeries were complete, the team visited the Plaster House. The Plaster House is a home in Arusha that enables children from all over Tanzania to recover after they have had corrective surgery, orthopedic surgery, plastic surgery or neurosurgery for a disability. We loved touring the pretty space and learning how they too are changing lives.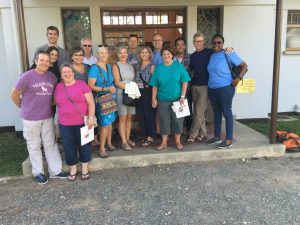 Now it's time to rest and reflect. Many team members are heading off for safari and other adventures. Some are coming home to return to our everyday lives. But maybe with just a little different perspective.
A special shout out to this incredible CSI team – you are outstanding! Dr. David Vandersteen says it best: "You were amazing, compassionate, hardworking and flexible!"
Mary Bye, RN
Stacey Brown, RN
Siva Chinnadurai, MD
Nancy Corcoran, RN
Amy Erlandson, RN
John Erlandson, CRNA
Bruce Ferrara, MD
Zipporah Gathuya, MDA
Jan Gauger, NP
Michael Gotzsche, CRNA
Tammy Lester, RN
Susan McMullan – Medical Records
Conrad Nguyen – Logistics
Jodi Pelkey, RN
Theresa Philbin, RN
Fran Schneck, MD
Craig Smith, MDA
David Vandersteen, MD
Victoria Vandersteen, RN
Norie Wilson, RN
Tim Wood, MD
Go team!
See more photos from Tanzania here.